end communication, event, recent past, research
Body Virtual Institution
31 May-1 June 2019 / @ Hacktiris (6th floor) - Rue Paul Devauxstraat 3, 1000 Brussel
End-Communications - Nassia Fourtouni, Goda Palekaitė and Katinka Van Gorkum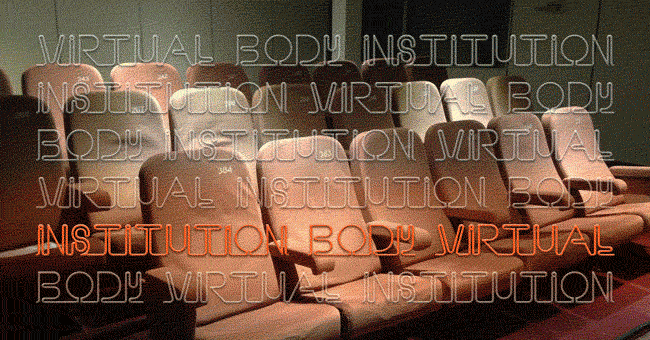 newnewsVIRTUALBODYINSTITUTION
@ Hacktiris (6th floor) – Rue Paul Devauxstraat 3, 1000 Brussel
Doors open at 18:00
19:00 GODA PALEKAITĖ – How to Infuriate a Historian
21:00 NASSIA FOURTOUNI – Waiting Room Meditation
22:00 KATINKA VAN GORKUM – Distance Learning in Close Proximity

Virtual Body Institution is the coming together of the 3 concepts that intertwine in the End-Communications of Katinka Van Gorkum, Nassia Fourtouni and Goda Palekaitė.
Their practices are very distinct from each other, in form as in content though they all engage with forms of sociability that enhance, propose and reveal the relation of the individual with the societal. Tackling this position from discursive, technological or body practices they invite the visitor to engage in thinking and embody modes of construction of the self.
Through their current practices of research and exposure – that use the personification of historical characters in a public discussion, the entrance into virtual space as a extension of the 'real' and the body as a perception machine – we encounter some of the contexts and mechanisms we inhabit in current western society.
Read more..