performative publishing, postgraduate program, reading session, seminar, workshop
Autotheory Gathering at ZSenne ArtLab: Public Program
gathering, seminar, performance
27 June-9 July 2022 / ZSenne ArtLab
In the context of Block II 2022: Scoring Intimacy of Discursive Others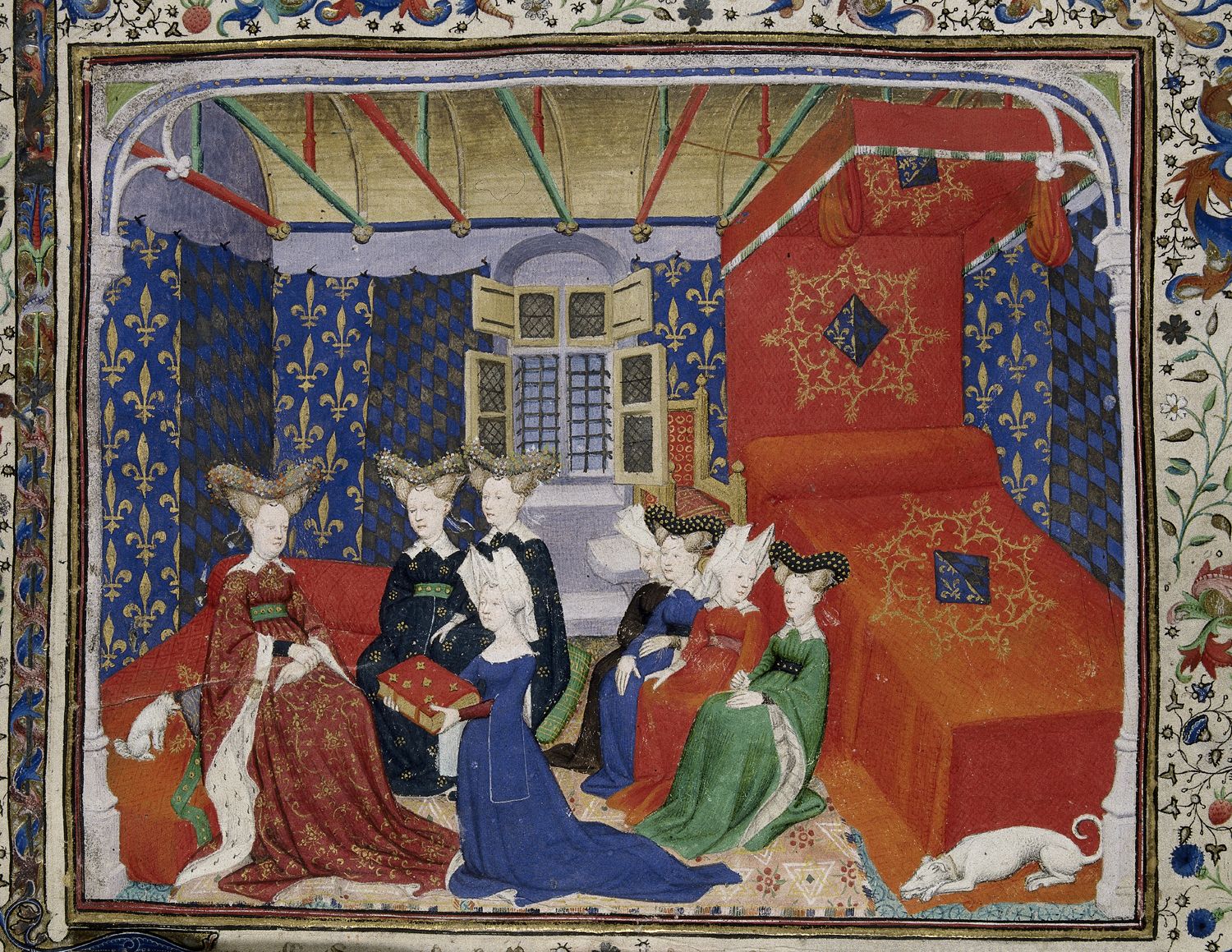 File:Christine de Pisan and Queen Isabeau (2).jpg - Wikimedia Commons
For two summer weeks (June 27 – July 10) a.pass is moving to ZSenne ArtLab in downtown Brussels, where it organizes a gathering around autotheory that brings together several approaches to the term and its relation to artistic research practices. The program includes several working sessions, a reading group, a programme of performances, and is curated by Lilia Mestre and Goda Palekaitė. To set a theoretical framework, a two-day workshop will be offered by Maria Gil Ulldemolins who will facilitate a selected library and methodological tools to be further explored during the two weeks. Associated researchers of a.pass Research Center – Gosie Vervloessem, Simon Asencio, Rareş Crăiuţ and Vijai Maia Patchineelam – will present their current processes. Finally, a.pass alumni who engage with autotheory in their practice will present their recent work in a series of performances and conversations open to the public: Chloe Chignell, Aubrey Birch, Eleanor Ivory Weber, Pia Louwerens, Marialena Marouda with Charlie Usher, Flávio Rodrigo and Philippine Hoegen, Vladimir Miller, Gary Farelly and Adrijana Gvozdenović. 
SCHEDULE
28 and 29 June: Workshop Maria Gil Ulldemolins [10:00-17:00]
30 June: and 1 July: How to say my name Rareş Crăiuţ [June 30 at 11:00 & July 1 at 19:00 – duration 1h]
2 July: Performance Flávio Rodrigo and Philippine Hoegen [17:00-19:00]
6 July:  Online talk Alex Arteaga and Emma Cocker [cancelled]
6 July: Working session  Gosie Vervloessem and Simon Asencio [14:00-18:00]
7 July: Working session Kin(s)Score a.pass program https://apass.be/kinship-score/ [14:00-19:00]
8 July: Performances and book presentation Pia Louwerens, Marialena Marouda, Charlie Usher and  Vijai Maia Pachineelam [19:00-21:30]
9 July: Performances Chloe Chignell, Aubrey Birch, Eleanor Ivory Weber [18:00-21:00]
DETAILED PROGRAM
28 and 29 June [10:00-17:00]
Maria Gil Ulldemolins: The Autotheory Library
For this two day workshop, MariaI puts together a library of samples of autotheoretical (or autotheory-adjacent) texts. The group will read them and discuss them collectively, without rush, meandering wherever it is of interest for the participants' and their practices. The aim is triple: to understand the very basics of what autotheory is understood to be up to now; to tentatively look at other hybrid works that might compliment it; and, last but not least, to make time for each participant to reflect on if and how autotheory might inform or challenge their own work. Participants will be able to permanently "borrow" from the library excerpts of the works, so they can take home a collected reader for their reference. The whole experience intends to highlight how autotheoretical narrators weave an intellectual and intimate network of relations; and consequently make time to read, think, and share as a collective, too.
*
30 June and 1 July [June 30 at 11:00 & July 1 at 19:00 – duration 1h]
Rareș Crăiuț and others: How to say my name?
For this gathering, Rareș will talk about the combination of art, research, narrative and food. First through his artistic research practice but also through 'CofetARia', a  project hosted at a.pass, where he is also Associate Researcher. In his practice, Rareș works with cakes, and pastries as non-human collaborators in artistic contexts. He will address the topics of science and narrative, as well as the accessibility to research.
Cakes are generally more performative than other types of food and make it easier for humans to understand and feel the agency of food. Working with alimentary matter and live performance, CofetARia is an eating performance, at the confluence of durational practices like performance and baking.  
* 
2 July [17:00-19:00]
Flávio Rodrigo and Philippine Hoegen: On Versions/ NÓS 
Flávio and Philippine will present a performance and conversation created collaboratively for this occasion. They take this encounter as an opportunity to relate their practices to each other('s body) in the importance they give to recognising that they exist as different selves. This performance takes the shape of a working session in which the performers and researchers borrow and lend each other's dispositives of autotheory, putting them at each other's disposal in a negotiated time and space.
David is a person(a) and practice of versioning, who first came into being as a version of Philippine, an exploration of who Philippine could be as a man with a beard, how they could move and be in the world and how the world would respond. David consists of different aspects and objects, one of them being a voice. In this working session David's voice seeks residence in a new body, an experience that confuses and excites him, and that recreates him in an uncertain game of determining and being determined.
Flavio, by incorporating this other voice, finds himself inhabiting his own body from a new perspective. The cohabitation leads to a different understanding and positioning of his body, with new layers of perception and performative gestures. David becomes a zone in between, where their bodies and practices cross and inhabit the same territory for a while, leading and being led, proposing and being proposed to, acting and reacting to David's mediation. 
The organic devices that our bodies are, and the sound and motion they create, as well as the synthetic devices such as speakers, sound processors and projectors, and the ephemeral devices such as concepts and protocols – will enable this exchange. They will allow mirroring, resonance, vibrations and echoes that constitute the necessary elements for the research process to begin. This performance proposes to see mirrors, recordings and reproductions as ideas and gestures that function in both practices as forms of interlocution with oneself, in order to actualise or confirm the perception of the self as a multitude of selves. Such interlocution produces autotheoretical reflection and becomes a methodology for artistic research.
*
6  July [cancelled]
Alex Arteaga and Emma Cocker: Online talk about language practices in artistic research
Both Emma and Alex are part of Research Groups concerned with language practices in Artistic Research.  They will speak from their perspectives and practices within several academic contexts. How do language-based artistic research practices relate to other research practices? What are the motivations, needs, desires, and aims that lead to establish these correspondences? How are the practices in mutual touch affected, modified, influenced, transformed? How do these connections, entanglements and intertwinements contribute to achieve the research goals? How do they affect the unfolding of research processes?
*
6th July [14:00-18:00]
Gosie Vervlossem and Simon Asencio: Autheority
The interrogatories:
*
8 July [19:00-21:30]
Pia Louwerens, Marialena Marouda, Charlie Usher and Vijai Maia Patchineelam: On Artist as Institution  
This evening brings together artists working with the practices of instituting and within institutions. It will comprise Pia's work as 'embedded researcher' in institutional frameworks; Vijai's Ph.D. research regarding the employment of the artist, as an artist, inside the art institution; and Marialena's and Charlie's practice of summoning, hosting and appropriating utterances with the Ocean through establishing The Oceanographies Institute.
The Oceanographies Institute (TOI) studies human-ocean kinships. It gives particular attention to affectual and sensual encounters between those two bodies of water. The Institute therefore explores the relations of hands to mud, ears to the breaking waves, feet to the feeling of sinking, rather than the ocean 'in itself', as if devoid of human presence. It collects, analyzes and reenacts people's personal stories about their encounters with the ocean. TOI is interested in the relations to the ocean of the institutions that it is invited into -and of the people that are part of those institutions. In the case of a.pass and the people that make it up, they have been formative in TOI's coming to be. In their presentation, Marialena and Charlie will revisit some of those early Ocean Conversations and through them trace the parcours of the institute so far. TOI presentations often function as rituals of summoning: the ocean and fellow a.pass researchers and mentors will become characters coming to life in TOI's stories and songs.
For this gathering, Pia will tell a story about a piece that she wrote to be published in a journal on autotheory, but never survived the editing process. She will alternate this with readings from her self-published book I'm Not Sad, The World Is Sad: an autotheoretical, semi-fictional account of a performance artist who lands a part-time job as an Embedded Artistic Researcher in an art institution. The blurb reads: "Invested in queer theory and institutional critique, she sets out to perform the artist 'differently' through a process of negation and passivity, inadvertently causing her relationship with the insitution's curator to grow increasingly speculative and paranoid. Pia dresses her protagonist in the different professional guises of artistic labour. Her experiences as tour guide, security guard, artist, hostess and researcher at different institutions begin to overlap and blend under the name of 'performance'.  The result is a fragmented story of paranoid and reparative reading, script and utterance, exposure and vulnerability."
For his presentation, Vijai will present the book, The Artist Job Description, for the Employment of the Artist, as an Artist, Inside the Art Institution published recently by Track Report, Antwerp, in collaboration with OAZA, Zagreb, and a.pass, Brussels. During the presentation, Vijai will read passages from the book in which artist colleagues are referenced as key influences that have helped shape and direct the practice-led research, The Artist Job Description: A Practice Led Artistic Research for the Employment of the Artist, as an Artist, Inside the Art Institution. 
*
9 July [18:00-21:00]
Aubrey Birch, Chloe Chignell and Eleanor Ivory Weber: On Writing Practices 
The Autotheory Gathering will close with performative presentations of three writers and artists working with and on language. Reflecting upon the conventions of Western news media and the practice of reporting, Eleanor will perform a new piece of writing. Choreographically engaging with the space of ZSenne ArtLab, Chloe will present an extract of her Poems and Other Emergencies. Thinking through mineral erotics and linking our bodies with the bodies of more-than-human, Aubrey will propose a cocktail of spiritual calories.
9 July 2022
Eleanor will draw our attention towards reportage, which, in the same movement, bears witness to the world and consumes it. It is also a technique for making equivalences out of what is irreconcilable. In her practice, Eleanor keeps track of the dates when important things happen as a way to remember how the past shows up today. All the while she is trying to understand how repetitions, forgetting and suspended apprehension are equally part of personal and public events, places and products.
Poems and Other Emergencies*

Poems and Other Emergencies by Chloe sits at the intersection of poetry and choreography. Centered on a fictional character The Girl-with-her-tongue-out, the performance questions if it is through language that we find ourselves a body, or through the body that we find language? Embodied voices and voiced bodies weave and echo throughout the space. Where does the word end and her body begin?
Aubrey's Material & Spiritual Calories is a practice that bridges the art of gathering around the table with the geological origins of what we consume. The body's chemistry is altered both by the material calories of what we eat and the spiritual calories of how we eat, where pleasure and sociality nourish us as much as the proteins, sugars, and amino acids that we need to survive – that we need in order to wake up in the morning, to act, to hope, to protect. Between the immediacy of the meal and the endurance of our mineral origins, the body becomes a site where the ephemeral and the primordial meet in sensory experience.
* performance credits:
Performance and Choreography: Chloe Chignell
Conversation partner: Adriano Wilfert Jensen
Technical Support: Sven Dehens
Thanks: Sven Dehens, Bojana Cvejic, Stefa Goovart, Sabine Cmelinski and a.pass. 
Supported By: BUDA Kortrijk, Vlaamse Gemeenschapscommissie, Workspacebrussels, La Balsamine Theatre, GC kriekelaar, Lucy Guerin Inc, Dancehouse Melbourne, Batard Festival Brussels, QL2 dance ACT, Kanuti Gildi Saal, Tallinn, RIMI IMIR (NO), Littérature Etc. and Rencontres Chorégraphique.
*
BIOS
Aubrey Birch is a transdisciplinary artist and academic living between Australia & Europe. Working in various mediums, shecreates immersive states that link our bodies in the here-and-now to the deep time of those bodies. Thinking through a mineral erotics and social sensuality, she brings the politics of immersion into contact with the more-than-human. She lives part-time in remote Australia, where she cultivates native and medicinal plants. In Europe, she is a member of a collective taking care of Performing Arts Forum (FR), where she also co-organises the queer feminist event Elsewhere & Otherwise. Her works and collaborations have been presented by institutions like KANAL–Centre Pompidou (BE), MaerzMusik (DE), Shedhalle (CH), rotor Zentrum für zeitgenössische Kunst (AT), Kunsthal Ghent (BE), Theater Neumarkt (CH).
Chloe Chignell is an artist based in Brussels working across text, choreography and publishing. Her work focuses on language within a choreographic and performative frame; she invests in writing as a body building practice, examining the ways in which language makes us up. Chloe graduated from a.pass (BE, 2020) and from the research cycle at P.A.R.T.S (BE, 2018). Since 2019 Chloe co-runs rile* a bookshop and project space for publication and performance with Sven Dehens. Her work has been presented by: Batard Festival (BE, 2019) Saal Biennale (ES 2021), Moving Words Festival (NO 2021), QL2 (AU 2022), KAAP (BE 2022), Littérature etc. (FR 2022), Dancehouse (AU 2016-8), The Kier Choreographic Award (AU 2018) Kottinspektionen (SE 2019) and Venice Biennale of Dance (IT 2017). She currently teaches at ISAC and P.A.R.T.S. 
Eleanor Ivory Weber is a writer and artist based in Brussels. Her works expropriate the conventions and styles of Western news media to register and materialise a subjectivity that appears latent in the source. Recently her work has been shown at Kunstverein München (Munich), Maison Pelgrims (Brussels) and Kunsthal Gent (Ghent). In 2021 her essay 'Australian Others: Penal Logic and the Pandemic' was published in the literary journal Meanjin (Melbourne). Eleanor holds a Masters in Political Philosophy and Theory from the Université Libre de Bruxelles, and graduated from the Post-Master program at a.pass (advanced performance and scenography studies). She teaches art theory and critical practice at Erg since 2018 and is co-director of Divided Publishing.
Flavio Rodrigo Orzari Ferreira, 39, gay, brazilian, artist, lives in Brussels. He is a performer and psychopedagogue. He holds a Bachelor's Degree in Scenic Arts from State University of Campinas – UNICAMP (2004), a Master Specialization Degree in Psychopedagogy from FHO – UNIARARAS (2012), a Master Specialization Degree from UCB (2013) and a post-master degree in Performing Arts in A.PASS (Advenced Performing and Scenography Studies – 2020). Master's degree in speculative narration and videography at the École de Recherche Graphique (ERG) – Instituts Saint Luc in Brussels. His latest works as a performer and dramaturg are the solo The Ghost Scar (2019-2022), and the short film Fantasma Pédé (2022). He has worked for over 15 years as an art educator at both public and private Elementary and Secondary Schools. He currently works as a psychopedagogue coordinating a program to help students improve their learning processes at the ERG École de Recherche Graphique in Brussels.
Goda Palekaitė is an artist working in the intersection of contemporary art, performance, artistic research, literature, and anthropology. Her practice evolves around long-term projects exploring the politics of historical narratives, agency of dreams and imagination, social conditions of creativity, and intimacy with historical characters. Some of Goda's recent projects were titled Anthropomorphic Trouble (in collaboration with Adrijana Gvozdenović), The Strongest Muscle in the Human Body is the Tongue, Architecture of Heaven, Liminal Minds, and Legal Implications of a Dream. They were presented, respectively, at Whitechapel Gallery in London, Kunsthal Gent in Ghent, Centre Tour à Plomb in Brussels, Konstepidemin in Gothenburg and RawArt Gallery in Tel Aviv. In 2020 she published her first book of fictional biographies Schismatics. Goda participated in a.pass' postgraduate program in 2018-19 and currently is a Ph.D. candidate at Hasselt University and PXL-MAD School of Arts.
Gosie Vervloessem's artistic research focuses on the position of the researcher in times of multiple crises. Her work faces the challenges that arise within this role, and looks for new ways of producing knowledge. Her practice is an ongoing quest on finding  tools to relate to a world that is messy and chaotic. Therefore she juggles with and re-interprets the practices of cooking, digesting, co-digesting, immersion or osmosis, as tools to literally embody that relation. In scrutinizing this relationship she focuses mainly on the concept of nature and tries to unravel the ideas that underpin this concept. In doing that, she identifies herself as a Sick Detective, a character that involves the vegetal kingdom as a possible ally in her research. Her work is highly inspired by plant biology, comic books, horror movies. It is mainly presented as lecture-performance, in the form of workshops or publications.
Lilia Mestre is a performing artist, dramaturge and researcher working mainly in collaborative formats. She has been involved in a.pass since 2008 as Associate Program Curator and Core member (2014-17) and since 2017 as artistic coordinator. Mestre works with scores: inter-subjective set-ups and other chance-induced processes as emancipatory artistic and pedagogical tools, which have been documented in various publications. She is interested in forms of organisation created by and for artistic practice as alternative study processes for social political reflection. She was co-founder and latest coordinator of Art Laboratory Bains Connective in Brussels (1997-2017). Mestre lives and works in Brussels.
Maria Gil Ulldemolins is a postdoc artistic researcher at Hasselt University working on personal and artistic heritage, and interiority and interior architecture. Her doctoral work was a multidisciplinary autotheory on collapsing figures, sparked by the trope of the swooning Virgin in crucifixion imagery; and constructed as a writerly Warburgian atlas. Her practice is mostly hybrid writing that combines scholarly essays with more experimental approaches. She is one of the co-founders of Project Passage, a research line and academic journal that seeks to learn more and promote precisely these autotheoretical and performative writerly practices.
Marialena Marouda works in the intersections between performance, sound art and oral poetry. She studied philosophy and visual arts at Columbia University in New York, USA and continued her studies at the Institute for Applied Theatre Studies at the University of Giessen, Germany. In May 2018 she initiated The Oceanographies Institute (TOI), as part of her research at the Advanced Performance and Scenography Studies Program (a.pass) in Brussels. TOI focuses essentially on the relation between two bodies of water: the human body and the world ocean(s). It gives particular attention to affectual and sensual encounters between the two bodies. The Institute therefore explores the relations of hands to mud, ears to the breaking waves, feet to the feeling of sinking, rather than the ocean "in itself", as if devoid of human presence. It collects, analyzes and reenacts people's personal stories about their encounters with the ocean. In 2019, composer Charlie Usher  joined TOI, letting his practice of song-making flow into the institute's work.
Philippine Hoegen is a visual artist living in Brussels. In her multi-stranded, predominantly performative practice, she explores the ways in which we continuously create versions of ourselves, the apparatuses and processes we use for this and what their existence means for our understanding of 'self'. In the past 2 years she has focussed specifically on how this functions in contexts of work. Hoegen approaches performance explicitly as a research strategy: a way of thinking in which the physical is involved. Currently she is a researcher at the HKU Professorship Performative Creative Processes, and CARADT (Centre of Applied Research for Art, Design and Technology) Avans University, with a research project titled Performing Working.
Pia Louwerens is an artistic researcher, artist and writer exploring the performance of artistic production. Through  performances and performative texts Louwerens researches how art institutions and the artistic subject — the I who writes, speaks and makes — co-constitute each other. The speculation on what an institutional script would look like, and who are co-authoring, serves as a tool to materialize the mutual reading and writing that occurs. For her performances, Louwerens appropriates performative (para-)artistic frames such as the guided tour, the artist talk, the novel and the workshop. Her practice constitutes a rich intertextual netwerk of anecdotes, events, jokes, theories and citations, which summon and frame each other. Pia has completed a post-master and fellowship programme at a.pass. Next to her artistic practice Louwerens has written texts for De Witte Raaf, Metropolis M, Tubelight and Het Parool. Pia Louwerens lives and works in Brussels.
Since 2012 Rareş Augustin Craiut has been caring out « practice a as research » project (Performing food). The main themes of his artistic research practice are centred around the agency of food and eating and creating conditions to collaborate with Food. He is particularly interested in devices of meaning and affect (Bain-Marie Brunch food performance re-enactment cycle, various locations, ongoing; or Anximentara, Ecole de Rechrche Graphique, Brussels, 2018), and food in artistic and convivial collaborations (Comfort food continuum 2016, Baia-Mare, Romania; or The Terni – Paradisi-Neighborhood- Cookbook, Centro per le Arti Opificio Siri, Terni, 2017). Bread or baked goods are of particular interest with several performance art pieces dedicated to bread (The Transitions, Banis Connective, Brussels, 2017, or Anatomic bread bodies Matera European Capital of culture, Italy, 2019). 
Vijai Maia Patchineelam's artistic practice focuses on the dialogue between the artist and the art institutions. Placing the role of the artist as a worker in the foreground, Vijai's research-driven artistic practice experiments with and argues for a more permanent role for artists—one in which artists become a constitutive part of the inner workings of art institutions. This displacement of roles is part of a larger trajectory that he has followed in his Ph.D. research at the Royal Academy of Fine Arts Antwerp and the University of Antwerp, "The Artist Job Description: A Practice Led Artistic Research for the Employment of the Artist, as an Artist, Inside the Art Institution." Vijai is currently an associate researcher in a.pass' Research Center.