research portfolio
Magdalena Ptasznik / Zigzagging through space to discover the intimacy of relating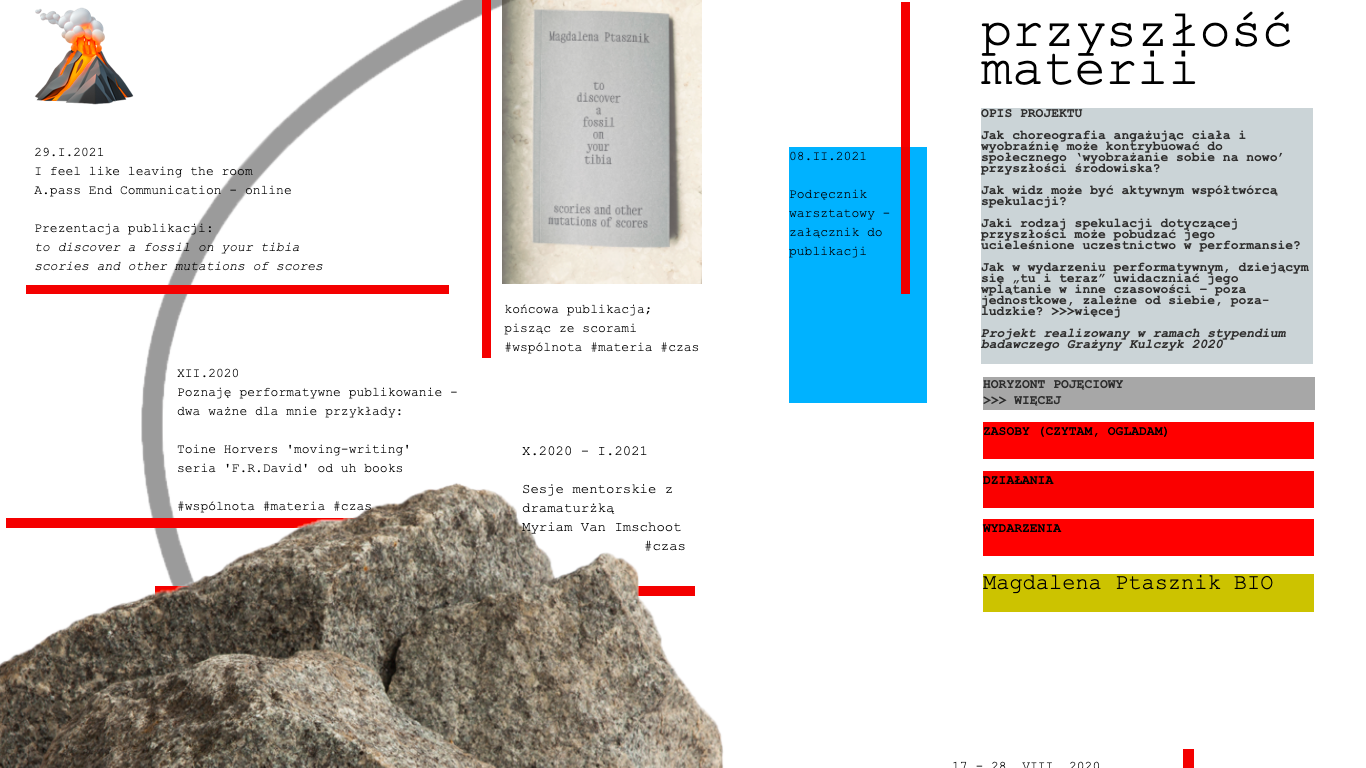 Screenshot 2021-02-17 at 12.03.05
a.pass post-graduate program portfolio in the form of a self-interview
+
appendix: polish website/archive of the research project (the website is in Polish, but references and content materials are in English)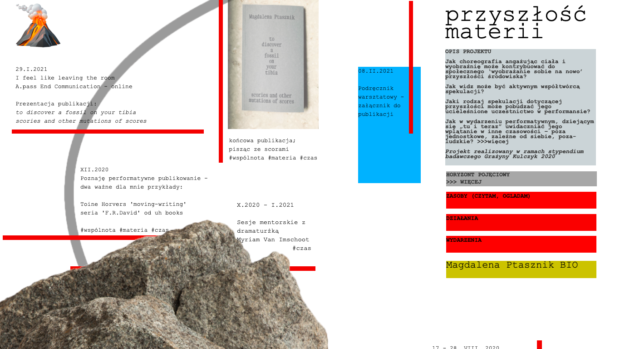 —
Self-interview
What brought you to the research that you have been engaged with at a.pass?
First, I want to talk about movement practice; it is my base and the operational system. The movement practice has always been experiential and collaborative. It has grown through learning from and with others, listening to words, moving, formulating instructions, exploring their potentials, or teaching. It has always been working with the space in which it was happening and the materiality of the body and those beyond it. I have been exploring this practice as a practitioner– a mover. As such, a performer is always an agent and an observer of the performative. To perform one needs to be aware of the performativity that is already happening both within and beyond them. I'm interested in making the experience of the 'performer' available, for the audience; that is, to become an agent on the inside. Through the audience/performer's relation to the textual material they are invited to activate the words through their participation. 
Second, I will tell you a story:
We sit together on a blanket. We are seven, but I say we are five. We are on the lawn in front of a 19th century gallery building that hosts the performance that you imagine you are taking part in. I say all five characters' names and indicate, with each, to a specific person sitting on the blanket (I don't know your real names). I say: we are at the beach, we are wearing bathing suits, one of us is topless. I say: there is a birthday cake in the middle of the blanket.  I describe how it looks with appetite: it has three layers, covered with whipped cream, and decorated with a few strawberries. I say: suddenly, we hear the noise. I say: we turn towards it. I say: we see a dog, a big one, hairy. I say: it is running towards us, fast. I say: it is very close. I say: it is hitting the cake, eating it, destroying it, and making a mess. I say: pieces of cake and drops of whipped cream are landing on our bodies. I say: we are looking at each other, we see our bathing suits and skin are filthy. I say: we are leaving to take a bath in the sea, to rinse the remains of the cake. I get up and leave the place. You follow. (A performative walk in summer 2018)
What were the questions you entered a.pass with, and what was their trajectory? 
My a.pass research proposal had three questions[*] which I was busy with throughout. But, from the very beginning, there was also an underlying inquiry that I've only recently named 'the undercover project'. I find it more important than the questions posed in the application. 'The undercover project', though not proposed directly in my application, was the real motive to enter the a.pass research environment. I unfolded the project in the following questions: How can I engage in research questions not by building a construction (a product) based on elements that are accessible to me in the moment of posing the question, but by continually digging into the problems they evoke? Can I, through practice, dig into implicit relations and assumptions within my research? Can I at least for a while, or sometimes, suspend the connection of my practice to the product it might bring? Can I, instead, turn around to the field I want to explore and experiment within it? Not to repeat the representations but go into interactions with them? Exploring these possibilities is important for me for further functioning within the arts, for refreshing the sense of it, for negotiating with its demands. It was necessary to ask how I want to cultivate my base of the practice beyond, or better to say, under different the manifestations that it may take. 
Through the research process, I realized that my initial questions were attached to a particular imagination of a product and the context in which it could circulate. I wanted to reformulate my approach to working, to look for other possible openings of my practice. At the very end of a.pass, I realized I was unconsciously repeating the logic of production; using research as a means to produce something. Whilst, I don't see it as necessarily wrong to use research outcomes for further production, in my case, the logic of production was keeping my research in a very narrow frame, thinking towards the future in terms of production was haunting me. Therefore, through a.pass I was able to build skills of resistance. The skills to make a space in which I could engage with research questions and share them in new ways. The booklet I am sharing through the end-presentations is the unperfect footprint of risking entering a different mode of questioning. It is the beginning.
What is your current research? 
The research materializes as written texts, which experiment with the form of the score—a choreographic tool. These scores are to be read by a reader on their own. They are written as scores (in its broadest sense), as tools that produce a specific situation, but rather than thinking of them as instructions, I propose to think of them as a literary form. A score as an instruction assumes a particular mode of attending and a set of abilities to enact it; to focus, to imagine, to act. As an instruction a score attributes value to doing. Here, I counter that attribution of value by opening possibilities of various ways of attending and propose to look at the performativity taking place in an intimate sphere activated through reading. I understand it as an interobjective[†] space created by a reader, a score, and an environment. The participant is invited to explore different ways of engaging with and interpreting the score. The reading of a text is a way of following this proposition and observing one's attendance.  I called this kind of attendance 'speculative doing'—observing, sensing, perceiving, and maybe imagining a further action, physical doing. 
A score is a structure for participation. What do you propose to participate in through these scores? 
The score directs its readers' attention towards the relations within an environment of which they are part. In particular, I explore how we take part in the materiality of the environment as well as the relations we are already engaged in and have potential to engage with. Building upon observation and somatic experience, I explore environmental relations through navigating attention and developing fictions. This begins with observing our own perceptual and imaginative patterns  by turning our attention towards our embodiment and our surroundings. Exploring the relationality through one's sensual nature puts subjectivity in the network of dynamic relations where human and non-human materiality cannot be sharply separated. It engages the images, beliefs, and scores of 'being a person' and asks how, as such, do we understand our participation in the environment[MOU1]. Fiction is implemented here as a speculative tool for practicing relationality, a tool to create affects—fictional spaces can, and often do, influence patterns of perception.
How do you use text to explore these modes of participation? 
The way of attending I am exploring and proposing demands effort. As William James said: 'Only those items which I notice shape my mind—without selective interest, experience is an utter chaos.'[‡] To open up towards an experience of the material environment, I am looking for ways of giving attention to the possible mergers or dependencies between the bodies of participants and different materialities. An observation is an entry point, a practice to create attention. The research plays out in the area where we observe the grounds that we stand on; to give attention, 'to excavate' relations, processes, and influences we take part in, cause, or are submitted to.
If observation is a tool, what does it serve? Is observation a mindfulness meditation or an awareness exercise? Is your practice a form of human meditation within the earthy matter?
Observation is a tool for exploring the fantasmic minds—real or, at times, fictional sets of relationships that we are part of. It is a method to get acquainted with the unstable nature of fantasmic relations; their changeability, or even the transformation of the worlds known to us. To live with this transformation is to enter into collaboration with a process of decay, overcoming and transforming our own perceptual and existential limits or habits. The observation here (as opposed to how it functions in mindfulness) is not to experience 'myself in the present' but to direct the attention beyond the borders of my body, towards the other, our relation, dynamic of it, and the self, understood as being part of a bigger mind. Observation assumes the unknown (what is yet to come, what is excluded from perception) as potential and invites it to influence the known. 
As a presentation, you propose a booklet, an object to keep in hand, to read in your own space and timing. What kind of encounder do you propose?
Bridging the idea of reading with the participation implied in a score, entangles the readers body with the text in an intimate way. Attending to a conscious observation is a very personal and intimate engagement. I propose the exploration at this level to let this 'close to yourself' experience—the intimate—be influenced. To engage with observation is to explore how you, on this intimate level, are in, and develop, relations with others (human and non-human). How do you perceive and perform your participation within structures? What do you attend to? and what do you exclude yourself from? I was interested and inspired by the precarity of the proposed format and situation. Will the reader try to engage with the imagination within the text? or read across it briefly? Will they engage with the choreographic aspect and relate the text to the body?
On the other hand, I thought of it as the choreography of precarious times—'poor choreography' or 'poor people choreography'[§]. To create or participate in it, one doesn't need any production machine, theater, scenography, or performers. One doesn't need to buy tickets or even to go out. You can participate in it while being in lockdown, it is accessible wherever you need to be. These 'poor' conditions are interesting exactly because they activate a private space and a sense of public-ness within.
Observation and further speculation are ways to explore our position in the world's material organization; in its systems and structures of power and control. A poet, Forrest Gander, talks about the 'anti-spectacular' potential of poetry which, using just words can focus attention for long hours and cause profound influence even in the context of the "resplendent visual world which often cannot focus attention on anything at all"[**]. I am looking for this kind of anti-spectacular potential of 'written choreography' operating on perceptions, senses, and imagination.
Attention and observation happen in time. Is time a theme in the research?
With this research, I reconsider what it means for a work to be time-based. The environment and the processes happening within it confront us with the passing of time. Different matters have different temporalities, temporal scales, and different dynamic registers of action. The ultimate reference and a tool to think with is, for me, geology, which brings us to the earth as the basic structure of our material being. Geological time teaches us about the constant movement of any and all matter, and it gives us a more-than-human perspective to time. 
I become troubled by thinking of the 'nowness' seemingly implicit in performance. 'Being here and now' is often the main category of performative practices. This 'nowness' is central to the somatic and improvisation practices that were formative for me and my work. Whilst I appreciate their methodologies—the ways in which they teach us how to give attention and how to be affected—they tend to give attention to an individual experience and place importance on what a subjective 'I' goes through. I have the impression that this approach to practices builds a community whose members develop a  sensibility for their own experience isolated in time and space. It creates a bubble of nowness that celebrates itself, that is, celebrates the individual, and does not create an idea of community with what is not immediately accessible, here and now. I try to work with elements of the somatic within an open-ended environment, in order to revisit individual or collective memories, create and share fiction, and re-observe the environment close to the body. Can we, with somatics, think of a body as something which is not determined by an 'I' and not limited to our materiality, but as an expanding entity in time and space? Can the performative act activate an embodied experience to explore an entity's sensorial community of different matter and temporalities?
What would be the next step for this research?
I will keep on exploring writing. I want to work on a performative space where the intimacy of silent reading can perform in a public, social and collective space. I am thinking to collaborate with a visual artist to create a performative space where fiction-speculation is co-created by text, matter, words, and participants' bodies.
—
[*] The central questions of the research proposal "Immersive speculation: choreography activating potentials" are: 
How can choreography be a form of speculation on environmental transformations?
How can this speculation address the actual environment in which it is happening?
How can the viewer with his/her presence be placed inside this speculation?
[†] Timothy Morton, Hyperobjects; as explained in chapter Interobjectivity; University of Minnesota Press; 2013; s.81-95
[‡] William James, 'Attention'; in: F.R. David, AUTUMN 2020; uh books with KW Institute for Contemporary Art Berlin; s.39
[§] When I talk about precarity I'd like to refer to two artists who help me think about it. First of them is Ligia Clark and her Relational Object, second Lisa Nelson with her precarious composition scores, eg. one named 'Poor people yoga'. 
[**] Usłyszeć ciszę, interview with Forrest Gander; in Julia Fiedorczuk, Inne Możliwości. O poezji, ekologii i polityce. Rozmowy z amerykańskimi poetami (Other possibilities. On poetry, ecology and politics. Talks with american poets); Katedra Scientific Publisher; Gdańsk 2019; s. 113.
Selected references:
María Puig de la Bellacasa, Matters of Care; University of Minnesota Press, Minneapolis; 2017
Julia Fiedorczuk, Inne Możliwości. O poezji, ekologii i polityce. Rozmowy z amerykańskimi poetami (Other possibilities. On poetry, ecology and politics. Talks with american poets); Katedra Scientific Publisher; Gdańsk 2019
Forrest Gander BĄDŹ BLLISKO (BE WITH), translation Julia Fiedorczuk; LOKATOR; Kraków 2020.
Peter Handke, The Jukebox and Other Essays on Storytelling; Picador; USA; 2020
Philippine Hoegen ANOTHER VERSION 'Thinking through performance'; Onomantopee; Brussels 20202
Toine Horvers, moving-writing; Toine Horvers and stichting Suburban; Rotterdam 2020
William James, 'Attention'; in: F.R. David, AUTUMN 2020; uh books with KW Institute for Contemporary Art Berlin
Timothy Morton, Hyperobjects; University of Minnesota Press; 2013
Georges Perec, PRZESTRZENIE (ESPACE), LOKATOR, Kraków 2019
Ana Vujanović, Landscape dramaturgy: "Space after perspective"; Ana Vujanović's website (2018)
Kathryn Yusoff, "Epochal Aesthetics: Affectual Infrastructures of the Anthropocene, https://www.e-flux.com/architecture/accumulation/121847/epochal-aesthetics-affectual-infrastructures-of-the-anthropocene/
Anne Juren, Fantasmical Anatomy research
Ligia Clark Relational objects
Ilana Halperin, Geologic Intimacy
Blocks in which I participated:
2 September-1 December 2019
BLOCK 2019/III 
A LOOMING SCORE – WE SHARE YOUR POLITICS OF DAMAGE
CURATORS LILIA MESTRE AND SINA SEIFEE
16 January-27 March 2020 (block closed)
BLOCK 20/I ZONE PUBLIC
CO-CURATED BY FEMKE SNELTING / PEGGY PIERROT / PIERRE RUBIO
4 May-31 July 2020 / home (partial participation)
IN CONFINEMENT
THE IN-BETWEEN BLOCK 2020 II
14 September-3 October 2020 
SETTLEMENT 16/ THE UNCONDITIONAL INSTITUTION
VLADIMIR MILLER
Thanks for…
The always generous support: Lilia Mestre
Mentoring of the end project:  Myriam Van Imschoot
Mentoring throughout the research process: Kristien Van den Brande, Elke Van Campenhout, Valentina Desideri, Nicolas Galeazzi, Philipine Hoegen, Myriam Van Imschoot, Krõõt Juurak, Anne Juren, Sara Manente, Anna Nowicka, Jeroen Peeters, and Femke Snelting
Facilitating the a.pass program through curating blocks: Lilia Mestre, Vladimir Miller, Peggy Pierrot, Pierre Rubio, Sina Seifee, and Female Snelting. The companionship, support, and challenges: the a.pass researchers with whom I crossed (Deborah Birch, Rui Calvo, Ana Paula Camargo, Chloe Chignell, Diego Echegoyen, Signe Frederiksen, Quinsy Gario, Stefan Govaart, Adriano Wilfert Jensen, Mathilde Maillard, Muslin Brothers, Nathaniel Moore, Vera Sofia Mota, Flavio Rodrigo Orzari, Ferreira Lucia Palladino, Federico Protto, Piero Ramella,, Túlio Rosa Christina Stadlbauer, Federico Vladimir Strate Pezdirc, Kasia Tórz, Katrine Turner, Amélie van Elmbt, Andrea Zavala Folache)
English proofreading and editing of my texts: Chloe Chignell
Making all this possible: the team of a.pass (Lilia Mestre Steven Jouwersma Joke Liberge Michèle Meesen)
Facilitating shifts of perspectives: Jakub Szymanik


My participation in a.pass and the realization of this research would not have been possible without the support of Grażyna Kulczyk's Research Scholarship in the field of choreography granted by Art Stations Foundation.