end presentation, postgraduate program
Amari, Carina Erdmann, Mlondiwethu Dubazane, Lore D Selys Collective Channeling
29-30 September 2023 / a.pass
Exploration through research, play and art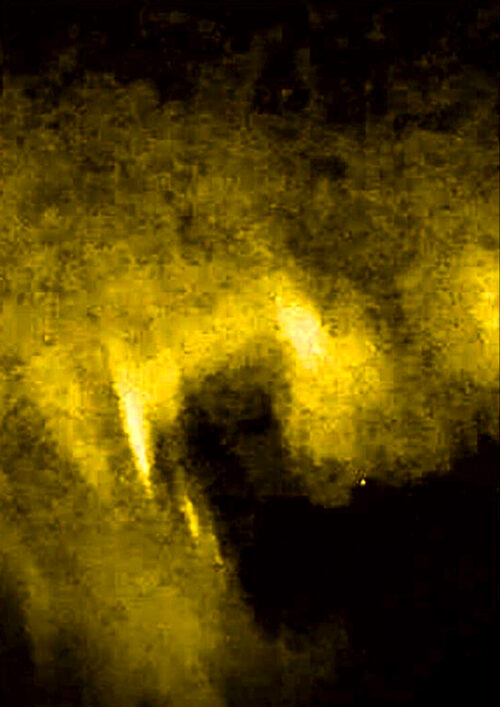 Collective Channeling
September 29-30
Doors open at 5.30. Delaunoystraat 58.** There will be food and drinks.
6pm-12pm: welcome at a.pass for music, film, conversation, spoken word and a dream dungeon.
Closing party on the 30th!
mlondiwethu, Carina, Amari and Lore conspire a presentation to conclude the end of a year spent together at a program for advanced performance and scenography studies. They decide to play a game and while they take a walk through the building that hosted them, they slip into character, speaking in the tongue of their research. Through this game they look at the implicit support structures and restrictions in place. They address and sound  the different languages and methods they need to adapt to move on an uneven playing field, comparing their different needs, skills, and energy levels, discussing how they can share time and space, the rules they would like themselves and others to play by. This also becomes a metaphor for the spoken and unspoken rules of institutions, of group-making, of ongoing or not yet inscribed forms of collectivities.
Welcome. We'll begin with a character introduction. Who are you? Why are you here? What is your quest? Starting to my right.
mlondiwethu: Hi, my name is mauve. I am a sound. I exist as a sound. I sound as a sound. As you hear me now you hear me in my essence, sound. I communicate with sound. Only sound, just sound. Sound, sound, sound, sound. But if you look into my eyes, if you look into my sound, I'm probably telling you a truth about myself. I came here to be heard. I hope you listening. I came here to be heard. I came here for love to be loved. I came here for me. I want to burn everything to the ground, but I need everything to stay up. My motto is to sound what I believe in or what other great masters believed in. I sound. I pop off. I smile frown. I'm shy loud, big small, pretentious, lover. Big eyes no see. I'm angry-soft. I am flow. I am muddy. The name is mauve.
Carina: I am Olga Terre. It's kind of an old name. It's an anagram of Alter Ego, which is a bit lame, but somehow it got stuck, got stuck in my own webs. I often appear as a game designer, but actually I'm a spider, spinning webs to catch you, but catch you feeling carried. The threads are thin and fragile. They're spun from your own thoughts. If you get tied up, your quest is to question the rules of the game. See that your struggles are not your own. Recognize the patterns and that you will not solve them alone. My tone is playful. Sometimes a bit grave. Language is a game to me and I make games as a language to speak to these elephants that are marching through the rooms. Catch them on the web. My refrain is a slogan because I want to sell you your own body as technology, for free. 
Amari: My name is Anti Hero. I blurred the line between good and bad. I created bridges between what should and what shouldn't. Now, my question is, how to learn from the shadows? How does light exist in darkness? Where is dark? Where is light? I know lawful skills and unlawful tools, I know plays and games for thoughts, I have ways to care or don't care. My attitude is true to myself. My tone is love. A love that doesn't bend. A love that is bold. I face the fears that make your body shake. That make your demons awake. Those that make your mom and dad regret they make you live in such a place. With deepest fear comes deepest desire. I'm full of paradoxes. Ghosts and prayers support me. I'm limitless.
Lore: I'm superb SP(UB). I am spongy and Kuti (cutty). Sponging to others, sponging in the supposed outside. Cut T often through speech, gaze, movement, silence, anxiety, distraction and agitation. I cut the crap by maybe creating some more crap. I move the crap. I can be bratty as refrains, mucho mantra. Well, scrubbing scrubbing with two Bs I superb use pub. She he they spoke, we spoke spaces the place as with every process, I kind of follow and cut, Follow. Follow. Follow Follow matrix. I encasement and clothes meant I like to perceive beyond certain types of presence. I touch myself and the room a lot. You will be iceberg only a few things about us. I cross subjects and spaces. I know no grammar.
Full script/game to be listened : https://collectivechanneling.cargo.site/ 
On September 29 and 30, mlondiwethu, Carina, Amari and Lore open the a.pass doors one last time, channeling voices, rhythms, and refrains – collapsing worlds that have been into worlds that might come.
Collective Channeling is co-curated with Simone Basani.
---
** Accessibility: a.pass is currently situated at the former industrial site 'de Bottelarij' in Molenbeek (Brussels). Activities take place mostly in two different spaces on the 3rd and 4th floors of the building. Due to ongoing repair works in the building the elevators are currently not accessible unless we make a special request. If accessibility presents a concern, please contact us beforehand so we can organize access to the different floors to the best of our abilities. Apologies for this inconvenience. The events in September will likely contain spoken text and performance-based activities. If there are accessibility requests or questions please contact production@apass.be.