end presentation, postgraduate program
Dragon Love (?)
11-12 June 2021 / De Markten
a.pass End Presentations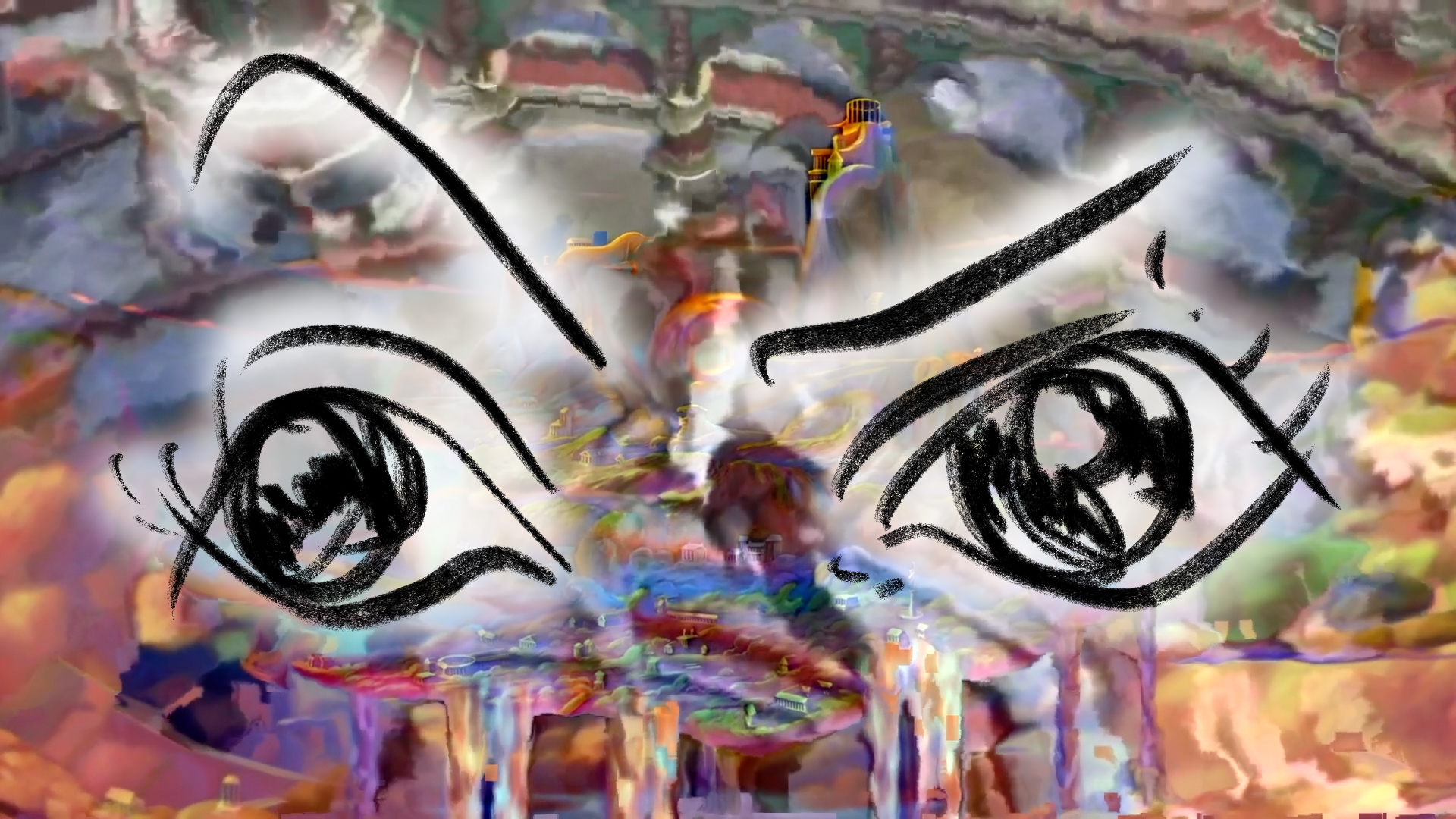 DRAGON LOVE (?)

June 11th 16-18h and June 12th 19-22h at De Markten
Dragon Love (?) gathers the research outcomes of Andrea Zavala Folache, performer, choreographer, visual artist and Federico Vladimir Strate Pezdirc, performer, choreographer and film maker. After attending to the one year postgraduate program at a.pass.
Both artists address and investigate construction paradigms of the self. Their work studies auto-fiction in different ways, with the desire to develop tools to resist predefined categorisations of identity that bind us to expect certain formats of art production and ways of living.
They invite the audience, the reader or the performer to welcome the alterity we have in us, in order to revisit the fundamental archetypes of love, games, work models and cultural inheritance. They create interstices that can open up to another view of the self and social configurations.
In both cases, autobiography is used as a ground from which to start playing. As the material that one has at hand to transform, craft, dissolve, rebuild, paint, glitch, narrate personal histories and identity building.
What happens if the line between the self and other dissolves? Or between art and love?
Federico Vladimir Strate Pezdirc created Draconis Lacrimae, an instruction handbook that invites the reader to play a Role Playing Game that is set in the guts of The Dragon where the adventurers meet after being swallowed/eaten/devoured/tele-transported/etc. by their own dragons. The players find themselves in a world they want to escape from, whatever escape might mean. This game is an invitation for the readers to play themselves otherwise and encounter otherness as an accomplice without a game master.
Lilith, Losing, Lavender: A love letter to love is a collection of texts written throughout the research trajectory of Andrea Zavala Folache. With different narrative styles as diary, love letters, score instructions, this collection imbricates ideas of love, art and life as an essay about conditions of attachment.
In the interstice of several practices as dance, writing and drawing and different spaces as the dance studio, the atelier, the classroom, the theatre and the white cube, Andrea's research focuses on non chronological dramaturgies for the emergence of surprise or unexpectedness.
Both publications encompass the research trajectory of the artists. Due to Covid 19, writing become a research tool for sharing and engaging from isolated environments with the collective. They are accompanied by research portfolios that inform about their methodologies, work companions and ways of thinking art production and research. These portfolios can be consulted at the a.pass website. www.apass.com from the 2nd of June.
For the End Presentations, a.pass invites two Visitors for a feedback conversation with the participants. The visitors of *Dragon Love* are writer, editor, and dramaturge Caroline Godart, performance curator Agnes Quackles.
This public event is co-curated by the participants with the support of a.pass.

*


Andrea Zavala Folache
Andrea entered the program researching on choreographic methodologies, symptoms and resources emerging at the interstice between performance and personal relationships; with an urge to merge alternative modes of producing work with healing techniques.Taking a series of one-to-one appointments about love with different local communities as a starting point, Andrea explores the format of the performance portrait in which the role of performer/lover and audience/lover are ambiguous. For the a.pass End Presentation Andrea is presenting Lilith, Losing, Lavender: A love letter to love, a book publication based on stretching the subjectivities in love from the formulation I love You, as a way of seeing what is under the gaze of western romantic ideas and heteropatriarchal structures that may reveal problems in language about love.
BIO
Given birth in Madrid, Spain. Gave away my adult life studying bachelors. Fine Arts in Complutense University of Madrid, Film and Digital Production in AI Miami University of Art and Design, Mixed Media department at AKI School of Art and Design Enschede, Cultural Anthropology at UNED Madrid, School for New Dance Development Amsterdam, Ma Multimedia Xiamen Art School China and now a.pass (advanced performance and scenography research) in Brussels. Recently, sharpening the artistic focus in a research about Love, from the image of I Love You, in order to place community and collaboration as the practice of studying together. From the formulation of love I am looking for tools to un-pack the transferring of experiences and expressions that have to do with modes of seeing, exchanging energy and resources in the production of cultural objects. The work space of live arts, visual arts and teaching has been a great place to test this and wonder, are there tools that love and work can learn from each other and, can we listen to the process of making relationships from those tools?. Since 2016 giving workshops on Concept development, Choreography, Improvisation and Experiments with SNDO, SIS (Sandberg Institute), ISAC Brussels, MovLab Madrid students; recently working in the medium of choreography solo and in collaborations with Adriano Wilfert Jensen, Simon Asencio, Paula Almirón, Jija Sohn, Laura Ramírez, Lucy Wilke, Oneka Von Schrader, Sabine Cmelniski and Julia Reist, with the support of Dansbrabant, BUDA, Vooruit, :ARP, La Casa Encendida, Ca2m, Projection Room, Blue Project Foundation, Brakke Grond, Jacuzzi Amsterdam and a.pass.

Thanks to: Adriano Wilfert Jensen, Kristien Van den Brande, Lilia Mestre, Julia Reist, Andrea Rodrigo, Sabine Cmelniski, Laura Ramírez, a.pass.
Mentors: Persis Bekkering, Stefan Govaart, Kristien Van den Brande, Vladimir Miller, Sara Manente, Myriam Van Imschoot, Julien Bruneau, Mijke van den Drift, Maciej Sado, Tom Engels and Krõõt Juurak.
Federico Vladimir Strate Pezdirc
Federico entered the program researching on fantasy tabletop role-playing games as tools for creating collective stories and figures. Taking the detailed rules systems from these games as a starting point, he has been exploring how to saturate identity with categories and speculation. Tabletop role-playing games function as textual and pre-digital tools of identity exploration and world-building, as they invite participants to occupy a liminal role located at the boundaries of player, character and performer. For the a.pass End Presentation Federico is presenting Draconis Lacrimae: The Player's Handbook, a publication that contains the rules and instructions of a fantasy role-playing game that he developed alongside Pablo.
BIO
Federico Vladimir Strate Pezdirc is an Argentinian/Spanish filmmaker and performance artist. He holds a degree in Audiovisual Communication from the Universidad Complutense de Madrid and an MA in Visual Communication from the Royal College of Arts in London. Since 2014 he works with his partner, musician and choreographer Pablo Esbert Lilienfeld. Their work uses speculative fiction within dance, performance, film and installation to interrupt normative narratives that have been naturalized by historical discourses. Federico and Pablo are currently working on the Dragon Pieces, a series of works that fluctuate between monstrosity and transindividual fantasy. Through practices as diverse as artistic swimming or role-playing games the Dragon Pieces aim to find playful representations of collectivity that question hegemonic ways of belonging and narrating ourselves. Federico has received the Gas Natural Fenosa Art Grant, the first prize at Auditorio de Galicia Young Artists Award and Creación INJUVE. His work has been shown in museums and festivals such as Cinéma du Réel (France); Santarcangelo Festival (Italy); Festival Salmon (Spain); Kasseler Dokfest (Germany); Queer Lisboa (Portugal); NAVE (Chile); MARCO Vigo (Spain), Kunstraum (London), La Casa Encendida; CA2M (Spain) or Zeimiai Manor House (Lithuania). 
Thanks to: Pablo Esbert Lilienfeld; Camilo Mejía; Joshua Serafin; Anaël Snoek; Julia Rubies; Nathaniel Moore.
Mentors: Vladimir Miller; Kristien Van den Brande; Krõõt Juurak; Elke Van Campenhout; Myriam Van Imschoot; Tom Engels; Sara Manente; Sabina Urraca; Olivier Stein; Pedro Pina.