end presentation, postgraduate program
Burrow
11-12 June 2022 / Level 5
Chloë Janssens and Vera Sofia Mota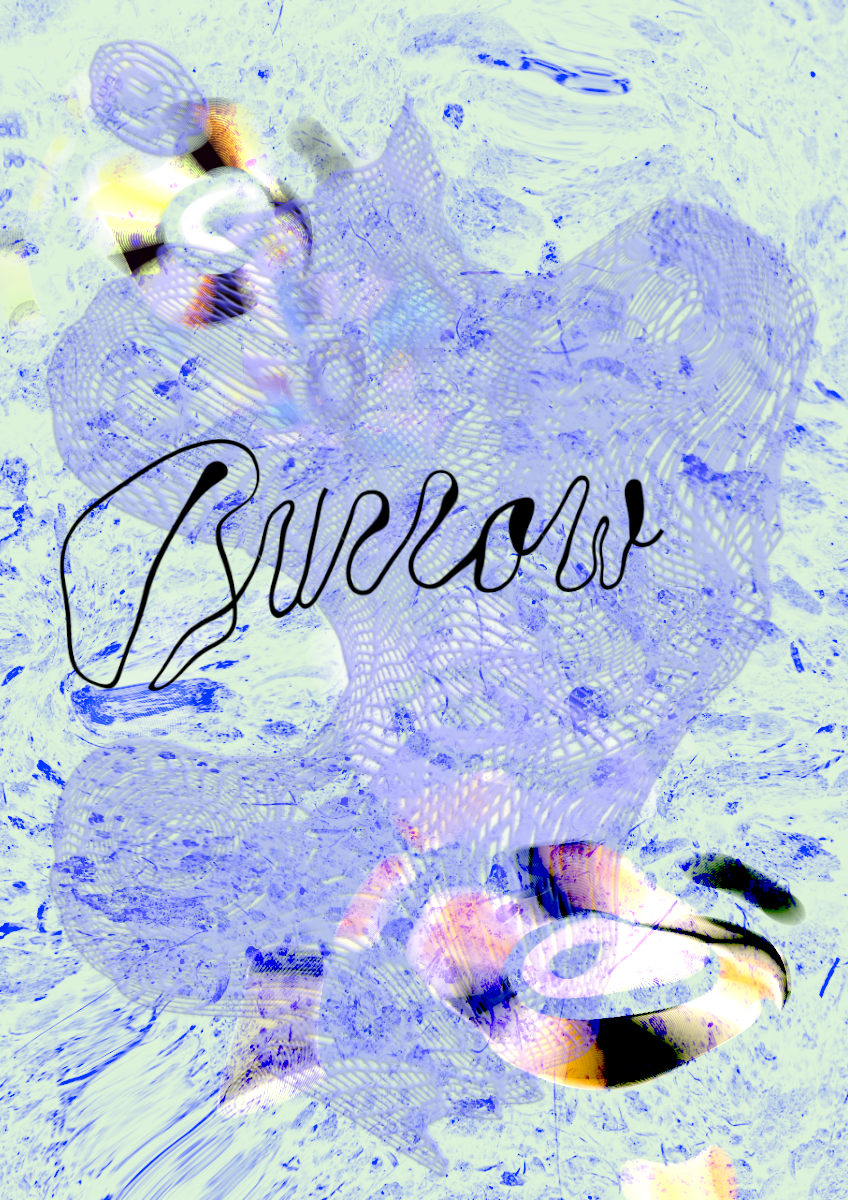 Burrow
This public presentation of Vera Sofia Mota and Chloë Janssens marks the end of the researchers' trajectory at a.pass (advanced performance and scenography studies). After following the year-long postgraduate program they will share their modes of doing, seeing and making artistic research public.
Vera Sofia Mota (PT)
Vera Sofia Mota is a visual, performance and dance artist. In her research, she explores how artists and artworks are constituted today in relation to the archive. Her initial practice unfolds as a series of conversations with dead and living artists. She assembles these conversations into a spatial and performative archive that explores the relationship between her own movement practice and canonised works of art. This archive is the space where the heterogeneous objects, relationships and practices intertwine around one of the many questions of authorship: how does an artist engage with the art of others? In its craftsmanship of reinterpretation and reproduction, her research awakens the ghosts of originality, ownership, status, and value. 
Imprints
Imprints is an installation-performance which gives access to references which populate my art practice. It comprises materials from my own archives and the archives of Nan Hoover (New York, 1931 – Berlin, 2008) and Lourdes de Castro (Funchal, 1930 – Funchal, 2022). Departing from the idea that performance practice is a process of re-appropriation of movement language of many others, this work is constructed as a transmission, reproduction and contamination of these influences. This collective archive of past and living artists is presented as a mobilised assemblage of texts, materials and body languages. The installation is built from documents which are digitally available to the public. Does this predispose them to transformation and alteration?
We have today unprecedented access to information on and documentation of artworks, and yet many of them come to us, just as Walter Benjamin has described, as reproductions void of context. By decoupling my archive from a genealogical approach, I try to re-enter the ecology of practices, positions, materials and texts which bring my performance practice about. The work of copying and alteration frames the performance as a complex weaving of its influence. Foregrounding the ecology of the artworks' gestation while it is being performed demystifies the ghosts of originality and authorship. Can we look at performance differently if we situated it in a world of altered copies?
Chloë Janssens Janssens (BE)
Chloë Janssens  combines cravings and knowledge from climate activism and graphic design in an artistic practice that investigates the soil as a site of place- and future making.
To dig my hands deep into the earth and listen 
"The sandy soils of my birthplace 'de Kempen', Belgium form the dry landscape of my research. I observe my ancestors preparing the earth for agriculture by obsessively moving cow-shit from the stalls to the fields. I can smell the cattle's breath, the farmer's spit, my grandmother's sweat and the excrements in the soil. After the famine we begin to enrich our lands with chemical fertilisers and radio-active uranium ore. When I stick my fingers in the earth here and tune in I can hear metals nagging, minerals singing, and bones twisting and turning in the underground. My imagination is haunted by this vibrating mass of elements holding stories from elsewhere. What to do with this pulsing scoop of dirt in my hand? I hold it with disgust, I peak into it, twirl my fingers around. I try stamping on it to free its story."
Chloe Janssens research proposes that a collective reading of this scoopful of earth becomes a basis for an urgent reflection on our entanglements with the places that we inhabit. She invites the audience as a co-researcher in need of a tool for reading the soil. Chloe Janssens offers literal and metaphorical sieves to better understand our positionality and implications in the soil's condition. How do these polluted soils that we create and inhabit inform, shape and guide us?
For this presentation Chloe (and her alter ego Chelsea) proposes to experiment with roleplay as a tool for collective decision making on geological disposal of highly radioactive waste. She will organise a fictional council and a series of tandem bike rides for the public of her presentation. Can roleplaying in a semi-fictional reality challenge our belief systems and create openings for epistemological contamination?