conference
On Coloniality
Chloë Janssens, Amy Pickles and Túlio Rosa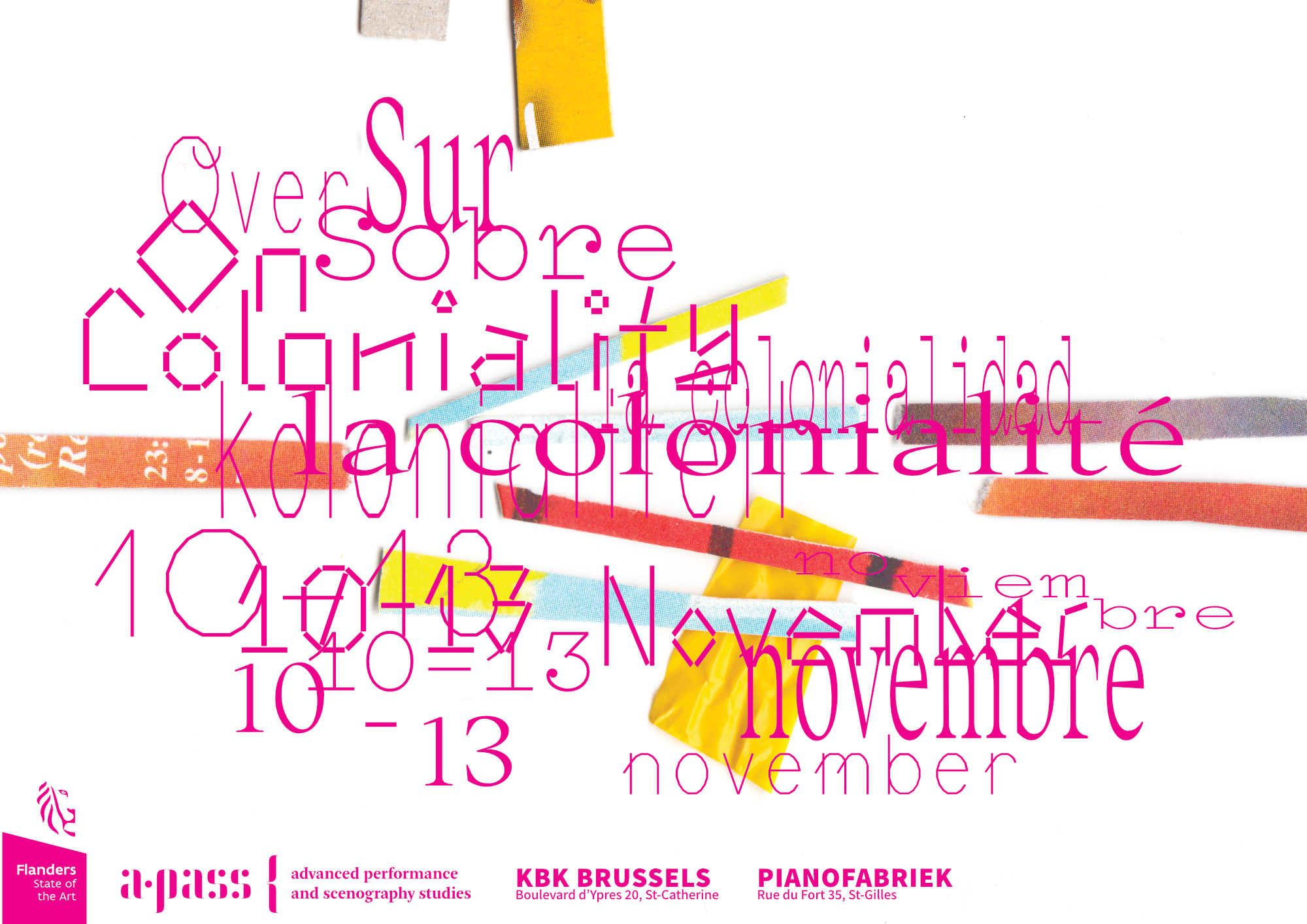 On Coloniality poster
Date: 10-13th of November 2021
Location: KBK Brussels, Boulevard d'Ypres 20, Sainte Catherine, Brussels
'On Coloniality' is a proposition by a.pass participants Chloë Janssens, Amy Pickles and Túlio Rosa of a temporary context for collective study. Through different artistic and theoretical speculations we will study coloniality and its manifold dimensions.
Our understanding of coloniality departs from ideas developed first by Peruvian sociologist Anibal Quijano, and later expanded by many others, such as the semiotician Walter Mignolo and feminist philosopher Maria Lugones. Coloniality is an idea that points to the modes of organisation of power in so-called colonized territories, and how this extends out into supposedly postcolonial states. It differentiates colonialism, as a historical process, from its legacies. We have been thinking about ways to describe how the colonial rationale is at the very basis of our modes of social and political organisation, how those supposed histories have collapsed into, resonate with, and form our present.
There is a shared desire between the three of us to learn how to articulate coloniality through artistic practices. Our collaboration has grown out of our individual motivations to discuss and re-narrate the colonial practices of the countries where we were born –  Belgium, Brazil, UK – and challenge the dominant narratives that compose these histories.
We are drawing connections between different times and locations by following closely methods of appropriation and extraction of land, resources, labour and data. Through different artistic practices we want to draw parallels, observe symmetries and find correlations across colonialism as it exists across all aspects of our lives; institutionally, economically, in corporations, governance, everyday structures of living and our bodies.
'On Coloniality' will be hosted in KBK, an alternative space near Saint Cathrine, in Brussels. It is a porous programme open to the public. An exhibition will host the programme that consists of reading and listening sessions, screenings, a performance, workshops, public conversations and discussions.
Public Programme
Day 1: Wednesday November 10th, Positioning ourselves.
11-13h: Visit to the Institute of Colonial Culture
15h: Presentation of the programme
16h: Presentation of the publication: Who's still doing minimal design? A conversation between Nontsikelelo Mutiti and Chloe Janssens
17h-18:30h: Helena Vieira [Listening Session]
18:30h: Open conversation
Day 2: Thursday November 11th, Accountability, Extraction and Ownership
11-13h: Elodie Mugrefya [workshop]
15h: Presentation Vermeir & Heiremans
15:45: Presentation Line Algoed
16:30: Open conversation with Vermeir & Heiremans and Line Algoed
19h-21h: Juan Pablo Pacheco Bejarano [workshop]
Day 3: Friday November 12th, Counter Narratives and Remembering Otherwise
11h-13h: Visit Art and History Museum and reading of 'Curar o Mundo', by Glicéria Tupinambá
14h: Presentation Sami Hammana
14:45h: Presentation Satch Hoyt
15:30h: Open conversation with Sami Hammana and Satch Hoyt
20 – 22:30h: Arquivo Atlântico Film screenings at Pianofabriek: Rue du Fort 35, 1060 Saint Gilles, Brussels
Day 4: Saturday November 13th, Alternative Relatings to (and through) identity, borders and knowledge redistribution
11h-14h: WORKNOT! X Sarmad [workshop]
15h: Presentation Daniela Ortiz
15:45h: Presentation Saddie Choua
16:30h: Open conversation with Daniela Ortiz and Saddie Choua
20h: Satch Hoyt [Sound Performance]
The programme is open to anyone who wants to learn collectively about coloniality and artistic practices, who wants to engage in a conversation around this theme. Registration is not necessary. The website of a.pass will have the latest updates on time and locations.
KBK has a wide entrance directly from the main street. There are no steps to enter the building. There is one toilet at the back of the space, on the same level. The space is illuminated with strip lighting on the ceiling, and a number of screen based artworks will be in the space. Hot drinks will be available for free, and there is access to drinking water. We will host a self made seating structure on which you are welcome to sit or lie down on.