end presentation, performative publishing, postgraduate program
Caterina Mora / Laura Pante / Maurice Meewisse PEACH BASKETS – THREE ANGLES ON BALANCING
27-28 September 2019 / a.pass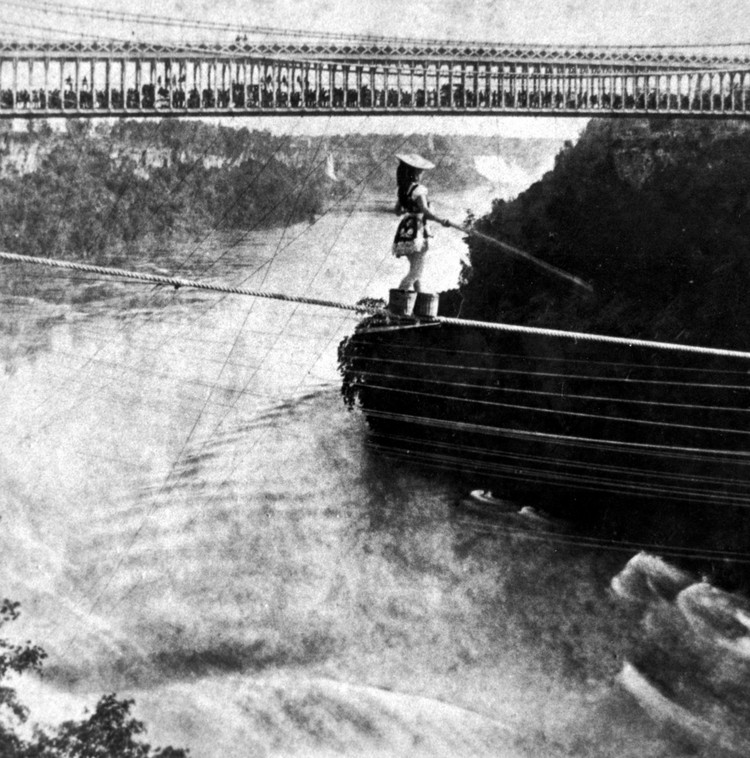 maria spelts
a.pass is happy to invite you to the End-Communications of Caterina Mora, Laura Pante and Maurice Meewisse
18:30 > Door opens
19:00 – 21:00 > Ongoing Installation / performances
>Double Spiral with rain makers – Maurice Meewisse
>After Affect Clinique – Laura Pante
21:00 > Pa-küru: 47 minutes of a bastard cheap lecture performance
23:00 > Party with DJ Bicha Boo Collective -> 27th September ONLY!!!!
*
Peach Baskets – What the hell!
"Maria Spelterini is walking across a tightrope across the Niagara Gorge, from the United States side to Canada, with her feet in peach baskets. In the background is the Niagara Suspension Bridge, which is full of spectators. In the distant background is the Niagara Falls." (wikipedia)
Funambulism is a "staying with the trouble" concept (in Donna Haraway´s words), that intertwines the a.pass End-Communications of Caterina Mora, Laura Pante and Maurice Meewisse, the 27 and 28 September at a.pass studio.
It all started with the idea of balancing oppositions, no matter which: theory and practice, high and low cultures, language and body, feminism and heteronormativity, bad and  good, horizontal and vertical, north and south, truth and fake, here and there, real and virtual, peach baskets and shoes – What the hell?!
The projects of Cate, Laura and Maurice, embody the crossings between antonymous positionalities and work with strategies that include negotiations, side effects, mistakes, shadows, confusion, plural views and overlapings as co-inhabitors of a research context attempting to think complex phenomena.
To walk the tightrope one needs to be precisely at the moment. In the Merriam Webster dictionary, the second definition of funambulist says: "a show especially of mental agility". Stay, stay, progress, walk…It is interesting to assess the complexity of such acts that involve several physical skills to portray exception and risk; that are then associated to freakishness, populism, entertainment, intense experience. Walking on the edge, for the good, the bad, the useless, the expectation, the market, for nothing, for life. Self-induced trouble in order to expose complex phenomena.
The tightrope delineates the space, creates sides and indicates the demarcation of territories. It is a geometrical form, a fictional separation that enables position, that asks to be crossed as a heroic act. A symbolic gesture linking (or separating) two end points. Reinforcing nature, in this case – the Niagara Falls as like if they would need support. What kind of visibility is at stake? What was that woman doing in 1876? Why did she have peach baskets on her feet? Why did she sometimes tie her ankles? 
The scenographies of these End-Communications are differentiated by three geometric shapes: the spiral, the triangle and the rectangle. They are reference points that reflect dwellings within real and artificial realities, they deploy perceptions. They are imperatives to read topologies: the arena, the tent and the stage. They all have a centre, they all are crossed by lines, they all follow patterns, they all create spaces, folds. 
Imagine that all these lines and curves crossing the scenographic spaces are folds proposing potential, temporary and situated forms of critical enquiry between seemingly disconnected or distanced realities.
At this point, the Deleuzian concept of the fold opens a range of actions, movements and transformations for what seems to be static and impenetrable perceptions of reality.  The fold changes place, re-forms elsewhere, multiplies, turns things inside out and outside in. The fold is extreme and intense and unlimited, it's baroque. It might be a form of connection that facilitates open-ended and inexhaustible unfoldings of  worlds.
Caterina Mora uses what she named Transversal Research Training as a way to politicise the relations between ones' own biography, western culture, global economy, institutional demand & heteronormativity. Cate works with show business as a form, to research relationalities in a non binary manner. Laura Pante creates conditions that trouble the relation between the private and the public perception of the body. Provoking awareness of the degree to which language and visual culture shape the body and our relation to it. Laura approaches technology and spirituality as culturally formative constructs that are constitutive parts of the self. Maurice Meewisse crafts situations as mimicries of institutional frameworks. Maurice's research questions the discrepancy between theoretical and ideological standpoints and the conditions that enable artistic work. The idea of the artist researcher as a self – instituted figure brings focus to both the agency of the artist and the dominance of power structures.
"That is why the unfolded surface is never the opposite of the fold, but rather the movement that goes from some to the others. Unfolding sometimes means that I am developing—that I am undoing—infinite tiny folds that are forever agitating in the background, with the goal of drawing a great fold on the side whence forms appear. . . . At other times, on the contrary, I undo the folds of consciousness that pass through every one of my thresholds . . . in order to unveil in a single movement this unfathomable depth of tiny and moving folds that waft me along at excessive speeds in the operation of vertigo." Gilles Deleuze in 'The Fold: Leibniz and the Baroque'
Maria Spelterini disappeared shortly after the crossing of the Niagara Falls. No one knows why, how or where to. 
*
Caterina Mora, a patagonian doer (1988) from Fiske Menuco (Río Negro, Argentina) determined by the wind. She has incorrect English and she always asks for help for text revision. She had several titles and roles in Argentinian territory which become innocuous in other countries.
Although she can give specifications on her traditional artistic roles in the Performing Arts (as a dancer, performer, ballet/contemporary dance/tango professor, director assistant, writer, modèle vivant), she is interested in transcending them. The 'doer' participates in academic groups and loves to create pieces with fiction and glitter.

In a.pass she develops Transversal Research Training, a device for Artistic Research practice which is busy with the creation of political entertainment as affirmative critique. She makes, writes, embodies, questions and even refuses translations. She has become obsessed with Aprha Behn, a female spy for King Charles II in XVII century Belgium. She was a "translatress".

Her End-Communications is a show called Pa-küru: 47 minutes of a bastard cheap lecture performance.
It is based on translating ballet to reggaeton. a.pass provides bright paper, a 2×10 metre platform, a microphone like Madonna, cables, speakers, lights and a ballet barre. She provides 47 minutes of her embodied research, a 0,34 euro broken plastic crown that she bought in Buenos Aires (the crown ́s value then was of 1,21 euro) and music from her cell phone that she bought for 67 euros.

She's trying to dance critically: from l'obsession après une audition to the pleasure of mostrar los dientes.

*
Laura Pante is a dancemaker based between Brussels and Venice. She combines the practices of drawing, architecture and graphic design with movement, dance and choreography.

She crossed a.pass artistic research environment with a focus on body performativity, apparatus of spectatorship and the agency of images questioning in which way there is still a projection of fascist ideologies on the bi-dimensional screens which walk with us and prescribe our movement into the world. In other words how visual propaganda contributes to the production of body's shapes. In her practice she researches how to create conditions for the possibility of a movement inquiry driven by a loss of corporal references and spatial coordinates challenging the expansion or the disappearance of body as a cultural phenomena.

For her End-Communication, THE CLINIQUE will welcome you into the green corner, the remains of an ancient and spreading red volcano or the living room of a grandmother's dream(s), to experience one by one a 360° video and performative installation. Within a precarious co-presence of inside and outside, private and public, personal and collective, we will practice a propaedeutic* research exploring a possible loss of corporal references and a consequential loss of memory – a flickering amnesia of the body's shape, as if discovering something would mean to forget the dimension you came from, challenging mediated vision and image production. Laura and her assistant will guide you with the help of a dance performed by hands (a touch) informed by osteopathic practices**: the capacity to see into the abyss of flesh.
* Propaedeutic // from the Ancient Greek προπαιδεύω (propaideúō, "I give preparatory instruction"), from πρό (pró, "before") + παιδεύω (paideúō, "I teach") is a historical term for an introductory course into a discipline, that is an art, or science, or movement.
** Ostheopatic practices of touch // OMT – osteopathic manipulative therapy // application of manual forces to improve homeostasis which have been altered by somatic dysfunction.
*
Maurice Meewise is a visual artist with a curiosity for the politics that construct accepted protocol of action and communication within specific institutionalized contexts. In most situations he finds an inherent conflict that acts as the impulse behind the creation of a new work in which he uses different techniques, from sculpture to performance, to create aesthetic interventions and attempt to provoke the reevaluation of our conditioned patterns of acceptance and behavior.
The journey he embarked on at a.pass has been primarily focussed on the context provided by the institute, the program as well as the participants, curators, staff and visitors. He explored the limits of the context and the inconsistencies that he sometimes found between theories and the way they were practiced. During his period at a.pass he attempted to challenge the beliefs within the institute by making a series of symbolic interventions that addressed these boundaries and discrepancies.
But one thing became apparent. Where is he in what he does?
For the end communication he commissioned himself to look at what context he provides, to look at what he is constituted of, to think about his role as an artist and performer and his relationship with the audience. He uses the same strategy he applied before, but now to explore his own politics. It resulted in Double Spiral with Rainmakers – and he will prepare the dinner.