ARIANNA'S BUBBLE SCORE SESSION #1
gift
BOOH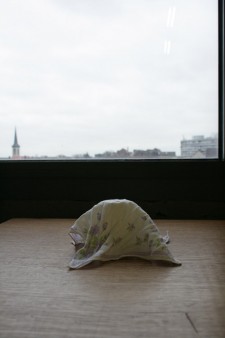 1) a girl is sitting on a green sofa. She feels cosy,
surrounded by a huge woolen blanket and a white one.
Slowly, the white blanket swallows her.
2) the white blanket is now animated. It crawls from the
sofa onto the floor. It spreads out.
The white blanket makes love with the floor.
"aaaaaaaaah".
3) the white blanket slowly stands up. We can see now that
it is a body covered in white sheet. The form of a ghost.
The ghost moves a few steps away from the sofa.
A little hanky is left on the floor, where the intercourse happened.
Ghost + Floor = Handkerchief