end presentation, postgraduate program
Aslı Hatipoğlu, Martin Sieweke, Martina Petrović, Nada Gambier THE TIME ITEM, THE ENDLESS WANDERER, THE TOURIST GUIDE AND THE LINE THAT WAS DEAD BEFORE IT HIT THE GROUND MEET AROUND A DINNER TABLE
2-3 June 2023 / a.pass 4th floor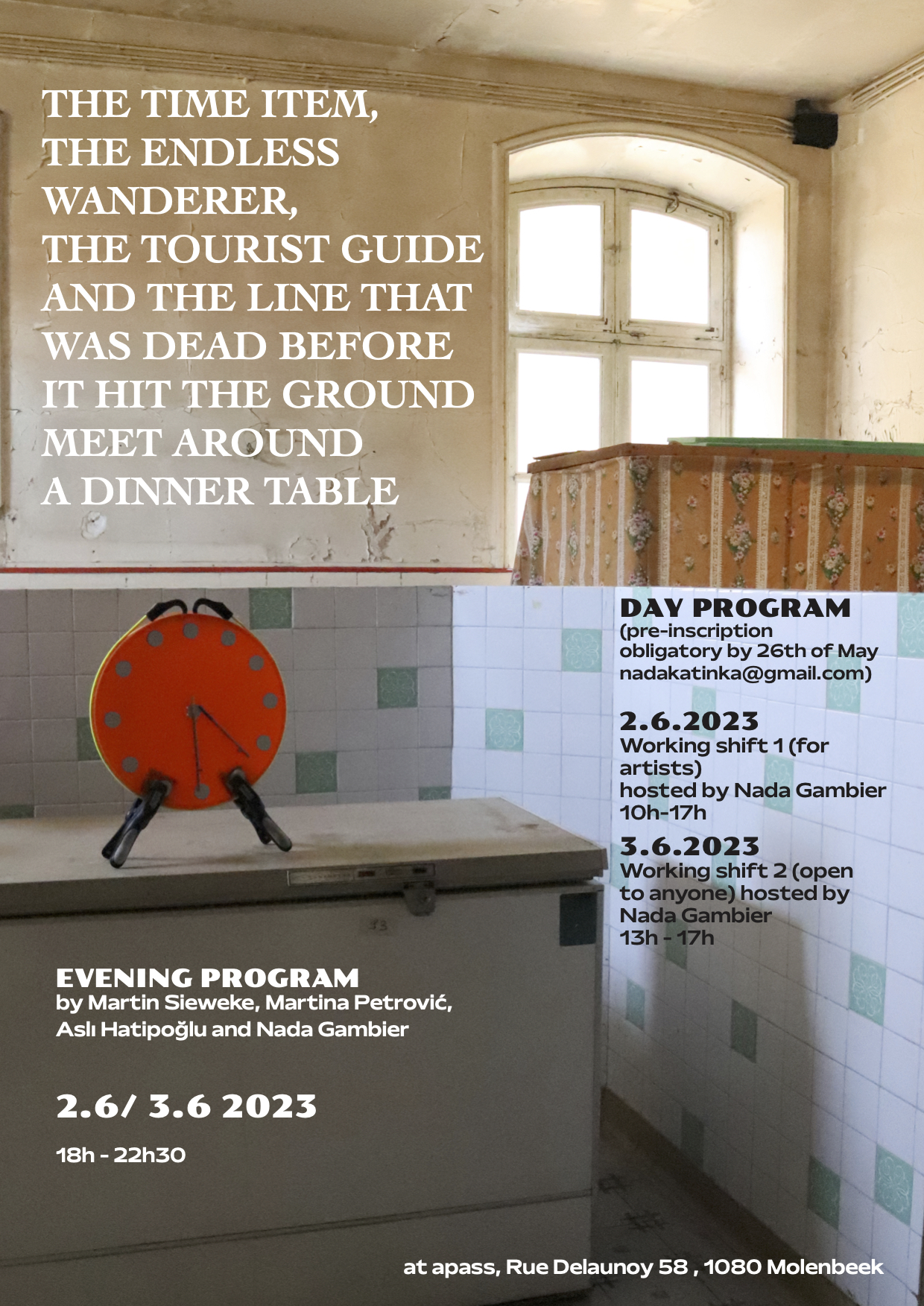 (c) Image: Martin Sieweke
The table is set. 
What is here is there. What is not here is somewhere, someone is doing something. 
Martin Sieweke, Martina Petrović, Aslı Hatipoğlu and Nada Gambier invite you on a guided tour of wandering, exploring time, invisible structures, in-betweens, tastes of intimacy, heritage, abrasion, fermentation and reparation that ripple through space to mark the end of their research trajectory at a.pass. 
There will be food, performances, boredom and a spa. 
DAY PROGRAM
2nd of June
9h30 welcome
10h-17h working shift 1 (with Nada Gambier)
3rd of June
12h30 welcome
13h-17h working shift 2 (with Nada Gambier)
EVENING PROGRAM (2 & 3 June: same program)
17h30  doors open
18h  sign up activities: green room (Nada Gambier) 
                                    6 slots for 2 persons every 10 min
                                    time item – publication (Martin Sieweke)    
                                    foot massage (Aslı Hatipoğlu)
                                    1 slot for 20 persons
                                    where: sign up on the 4th floor                                    
19h  entrée (Martina Petrović)
        where: dining table 4th floor
        cirrendering – performance / sound installation ( Martin Sieweke & Josephine Stamer)
        where: 4th floor
20h  dinner (Martina Petrović & Aslı Hatipoğlu)
        where: dining table 4th floor
       yeast invasion – lecture performance/ installation (Aslı Hatipoğlu) 
       where: 4th floor
21h  dessert (Martina Petrović)
       where: dining table 4th floor
       sign up activities: green room (Nada Gambier) 
                                    6 slots for 2 persons every 10 min
                                    time item publication (Martin Sieweke)    
                                    beer spa – walk-in installation (Aslı Hatipoğlu)
                                    max. 8 persons at a time
                                    foot massage (Aslı Hatipoğlu)
                                    2 slots for 20 persons every 20 min
                                    where: sign up on the 4th floor 
---
Aslı Hatipoğlu (TH/TR) 
Aslı Hatipoğlu is an interdisciplinary artist and a self-taught chef who uses food as a focal point to investigate interwoven themes of psychology, science, political ecology, ancestral knowledge, spirituality, and mental health. Her work is influenced by her background growing up with a migrant Thai mother in Turkey where her father had a tourism agency. Asli curates participatory dinners that shed light on food history as well as question how climate change, agricultural politics and current technological developments are changing our contact with food. Through lecture performances with a pinch of satire, Asli brings a critical perspective on the definition of words such as 'locality' as a means to re-define them in the complexity of systems. As an antidote to nationalism, she proposes fermentation practices to raise questions around cultural history, locality, tourism and the dogma of economic necessity. Asli believes in the power of psycho-somatic relation to food. She creates interactive installations that bring a layer of humor around self, perception and deception. 
Through physical engagement with her work, Asli tries to find the boundaries of one's self with the 'other' in a visually appealing setting where questions around disgust are raised. She is interested in how architecture and ecology play a role in her fermentation experiments and how (or if) the space for making/cultivating/brewing influences the way people experience consumption. In addition, her questions around community-building around shared bacterias and yeasts set the tone around social structures, like dining together. Where are the boundaries of the mouth as an organ that lets other living organisms from another person in? Is there a common language that speaks to a consumer in order to convince them into consumption? Taking inspiration from commercial advertising techniques,  Asli pushes the audience to re-question what, how and why we eat what we eat. She likes to engage the audience in food production systems to challenge a technological advancement that erases human presence in food production. 
Asli's research presentation consists of lecture performance yeast invasion, combined with a guided installation where her bacterial and yeast collaborators will invite people into a massage parlour that mixes receiving and giving touch, with the brewing of a collective fermented drink. A beer making demonstration takes people along the history of the special Senne valley which hosts the famous "Brettanomyces bruxellensis", in the past 20 years also known as a wine maker's worst nightmare. A spa invites people to relax into leftovers of the beer making and think about the outer body experience while sipping the special Belgian lambic brewed by the artist in a conversational set-up.
Bio
Aslı Hatipoğlu (TR/TH, 1990) is a textile culinary artist based in Brussels and Amsterdam. Her work often relates to topics such as ecology and sustainability and the challenges it imposes on our daily lives in complex systems of consumption. She is interested in science and what it can offer as well as the dangers it imposes (such as domination over nature and genetic modifications) that bring ethical questions towards our future as species. Through investigating ancestral knowledge with a community building approach, Asli is also interested in fusing diversity of her knowledge among her experiments in different environments. She often creates interactive installations, video work or uses performative storytelling through conceptual dinners as a way to bring topics of her interest forward.
After working several years as a self-taught chef, Asli deepened her knowledge with fermentation during her residency at the Food Lab Jan van Eyck Academie 2020-2021, along participating in several festivals such as Food Art Film Festival JVE (NL), Foodculture Days Vevey (CH), Oerol Terschelling (NL), Japanese Knotweed Festival at Mediamatic (NL) and Zamus Theaterhaus Cologne (DE) . Her works were exhibited in places such as Zuiderzee Museum in Enkhuizen, Framer Framed in Amsterdam, Fanfare Amsterdam, Perdu Amsterdam, Het Nieuwe Instituut Rotterdam, Jan Van Eyck Academie Maastricht.

Special thanks to: Martina Petrović, Martin Sieweke, Nada Gambier and all the a.passers, Martin Flugelman Olmeda, Elli Vassalou and many others for thinking, listening and advising me through this a.pass trajectory.
---
Martin Sieweke (DE) 
Martin Sieweke researches how the use of materials and objects can be prolonged, extended and reformulated in different ways. He proposes a multi-layered relationality, in which the given (the context, the conditions, already existing materials and familiar objects) influences and contributes as a dispositive.

It's about searching for affections, altering the use context, exchanging components: to not only consume materials away but to stay and remain close to them. It's about acknowledging the multiple while reaching for the specific. It's about structuring a process as a relational response. To follow Erin Manning's thought in her book The Minor Gesture (Thought in the Act), it's about implementing the context and its very specific configuration, which influences processes not yet condensed into a form:, "(…) it begins with the in-act and embraces the force of the what-else at the heart of all speculative pragmatisms".
In the evening, Martin presents cirrendering (working title), a sound installation in collaboration with Josephine Stamer. It consists of a former vinyl player reduced to its basic operation. Amplified structures, alterations and repetitive textures will dissolve over time, as emerging traces are finding their multidirectional and conversational negotiation in a circular and sonic form.
TIME ITEM is a research publication by Martin Sieweke that gathers text, images and soft proposals around bag making, reuse and repairment. 
Bio
Martin Sieweke works as an accessory maker and scenographer/costume designer between Brussels, Berlin and Stockholm. He often works with found objects and materials by detaching them from their intentional use context. He is interested in engaging with materials in a way that differs from a close link between artistic production and consumption, to structure creative processes more as a relational response.
www.martinsieweke.com
performance: Martin Sieweke, Josephine Stamer
Special thanks to: Asli Hatipoglu, Martina Petrović , Nada Gambier and all the a.passers, Hannah Krebs, Mary Szydlowska, Tatsuya Inuikawa, May Abnet
---
Martina Petrović (SER)
Martina Petrović's research focuses on how we, Western and Eastern European society, deal with complex socially generated emotions such as grief and love. How do we face the inevitable loss of parts of our culture and humanity, due to the crisis and disappearance of species and environments, abandonment and fast replacement of technologies and ways of living. And how do we find joy and moments in these circumstances?
Her sense of misplacement and need to have a strong connection with her culture is amplified with her residing in Belgium for the past 5.5 years. She gravitates towards connecting her artistic interests with traditions and rituals stemming from her Balkan roots. She investigates women's sacred rituals, handwork, symbols and creativity and their legacy in modern culture and common everyday practices.
Martina proposes looking deep into our roots, finding strength in the past and support in our surroundings as a way to move forward, to create new rituals and new ways of being. They might enable us to transition from fearing the future and present, and move us towards reconnecting and exploring different ways of forming bonds and relating to each other.
In the evening Martina proposes gathering around the table, there will be food for the stomach and for the thoughts, shared energy and hopefully sparks of magic. The dinner table has its own politics, how one sets it influences the conversation around it. It can generate questions, introduce different ways of composing a menu, and explore the tools we use. It can unveil the social structures that make the table possible, sometimes unexpected flavors appear on one's plate and many other delicious subjects can surface on it.
It will be an evening of celebration, with welcomings, conversation starters, and a format to practice openings and goodbyes. Come as a friend – excited to share our a.pass trajectory. Come as a wanderer – craving to have a taste of each of our practices. Come as a fellow researcher – curious to engage with questioning, rethinking and transforming art research. Come light, with an empty stomach, with an open heart. Come unprepared but ready to engage with different flavors that work together producing unexpected combinations. Come willing to leave some time for digesting processes. 
We will gather 3 times around the table. Please join on time, celebration waits for no one, it has its own rhythm. The entrée will be served at 19h. The main course is prepared in collaboration with masterful food explorer Asli Hatipoglu and will be shared at 20h. At 21h we will meet for the final gathering before we disperse into our separate celebrative trajectories.
Bio 
Martina is currently the art coordinator of art space Hectolitre, Brussels. She is a part of two active collectives, School of love (Brussels) and Garden of Delights(Gent). Her recent artistic projects are: Where do we go from here? (2023), Brussels, Gent, The Last Straw (2020-2022),Gent, Antwerp, Brussels, Belgrade, Moerdijk sculpture project (2022), Belgium, EcoSuites residency (2022), Greece, Terrestrial Odditties II, Belgrade (2021), BUZZ project on Ostavinska gallery, Belgrade (2019); Terrestrial Oddities, HBKsaar, Saarbrucken, Germany (2019).
https://cargocollective.com/TheLastStraw
Special thanks to: Asli Hatipoglu, Martin Sieweke, Nada Gambier and all the a.passers, Jana Vasiljevic, Adrijana Gvozdenovic, Irena Radmanovic, Petar Sarjanovic, Hijene, Mladen Bundalo, Lucia Palladino, Adva Zakai, Renata Turkes, Gorana Bacevac, Hectolitre community, SOL, GOD, BOSCH, Common Wallet, Emptor/Caveat, Kunsthal and many others for thinking, feeling and being with me through this a.pass trajectory.
---
Nada Gambier (FIN / FR)
At the heart of Nada Gambier's current artistic research practice is the concept of gentle trespassing. For Nada this is a tool for relationality. Gentle trespassing rests on the premise that crossing separations between people, things and contexts is both a necessity and a pleasure. It stems from a belief that the walls we erect around ourselves and our work should be un-hygienically permeable, implying that trouble and mess are part of the process. Practicing gentle trespassing requires collaboration, listening, flirting with gray zones and instability, revealing confinement, enclosure and accepting disagreement and structured cacophony as grounds for progress. To frame durational proposals Nada works with the idea of working shifts. 
Working shift 1
In this shift gentle trespassing is practiced between ideas, practices and questions. To begin, questions will be questioned and answered by new questions until eventually what remains cannot be attributed any longer to an "original" or "an other". Instead, what remains embodies the structured cacophony that coming together in (mis)understandings, assumptions, interpretations and imaginations may result in. From there we move into hands-on work, exchanging materials and engaging in a process of estrangement and reinvention.
This shift is for artists, of any discipline, with a work in progress or research they wish to bring into the room. You must be willing to hand your work over, momentarily, to another person. It does not matter how far into a process you are. What matters is your curiosity to see another person trespassing into your territory. At the end of this process we will do a round of performative presentations, sharing the outcome of the session.
 The shift ends with an informal drink and some light snacks.
 Please register by sending a mail to nadakatinka@gmail.com by the 26th of May latest! If you have a spot in the shift we will confirm it by email together with more details of what to bring and how to prepare.
Working shift 2
In this shift, we explore the potential of fiction in relation to gentle trespassing. Through a conversational game in which we engage as "another" version of ourselves we practice strategies of interpretation, exaggeration and collage. The aim here is to experience the simultaneous negotiation between who we are (or think we are) and who 'we' might be with a little interference from others.  
The shift ends with an informal drink and some light snacks.
 Please register by sending a mail to nadakatinka@gmail.com by the 26th of May latest! 
Evening shift
In a confined space, anonymous characters live their lives in a loop. Stuck in an endless repetition of mundane events and unable to escape they busy themselves with work-like tasks and sleep, waiting for time to pass. In this work, Nada explores the confinement of spaces, identities, institutions and ideas. Surveillance camera feeds, anonymity and invisibility suits (chroma key green suits used in film when wanting to disappear the body behind an action) come together in this installation in three spaces. On the 4th floor of a.pass you can watch an ongoing video feed.
On the 3rd floor you are invited into a waiting room area followed by the green room (sign up on site). 
Bio
Nada Gambier roams around in what she calls a crash-disciplinary world where performance, video, writing, curatorial approaches and languages and social concerns merge and collide. Her work often flirts with the borders between theatricality and abstraction and she is drawn to things that she doesn't understand or cannot grasp. The non-spectacular and the absurd belong to her most known trademarks as an artist. Her work is experimental in nature and very often performative, with some form of live element in it. Since 2014 Nada has been focusing on long-term projects in which the separation between research, creation process and public event can be confused and/or abandoned. In 2020, she began monthly collective research sessions in Brussels, further establishing herself as an advocate for experimentation and research within the (performing) arts. Nada also regularly collaborates on other artists' projects as a performer and artistic advisor. She has worked a.o. with Kate MacIntosh (NZ/DE/BE), Edit Kaldor (HU/NL), Forced Entertainment (UK), Simone Aughterlony (NZ/DE/CH), Jorge Léon (ES/BE), Maria Jerez (ES), Diederik Peeters (BE), Charlotte Vanden Eynde (BE) and Phil Hayes (UK/CH).
The evening shift is performed by Nada Gambier, Mark Etchells and Vic Grevendonck and includes writing by Nada and music by Klaus Wunderlich. The research is supported by a.pass, Nada & Co., WpZimmer, Workspacebrussels, Buda Arts Centre and the Flemish Ministry of Culture (research project subsidies). 
Special thanks to: Martina Petrović, Martin Sieweke, Aslı Hatipoğlu and all the a.passers, Jen Rosenblit and many others for their input in my reflections and experimentations during the past year. 
---
A big thank you to everyone who supported us during our a.pass time:
A.pass team: Lilia Mestre, Kristien Van den Brande, Kristof Van Hoorde, Hans Van Wambeke, Steven Jouwersma, Vladimir Miller
Block mentors: Jaime Llopis, Anna Rispoli, Samah Hijawi, Goda Palekaite, Sina Seifee, Pia Louwerens, Simone Basani, Vijai Maia Patchineelam.
Fellow researchers: Marko Gutić Mižimakov, Alyssa Gersony, Andrea Brandão, Amy Pickles, Gary Farely, Chloe Janssens, Inga Gerner Nielsen, Vera Sofia Mota, Jimena Pérez Salerno, Sarah Pletcher, Anna Lugmeier, Aleksandra Borys, Carina Erdmann, Amari, Lore, Marian Rosa van Bodegraven, Mlondi Dubazane and Merle Vorwald.