performative publishing, postgraduate program
Maurice Meewisse Documentation Fourth Block – troubled garden
1 May-31 July 2019
Curated by Nicolas Y Galeazzi
In this block we were invited to imagine our research as an ecosystem. This was actually relatively easy, because since some I imagined my practice along these lines, although I prefer to use the term oikos.
My attitude and relationship to the a.pass curatorial program has been different every block. Because the end is approaching I decided to use this block as an experimental playground and to start preparing my end-communication. It resulted in a series of small interventions and explorations in which the curatorial program was secondary. My focus was pointed at how to relate to specific perceptions of reality, and what became apparent during my period at a.pass, explore and question my own perception of reality. This block I explored the agency of smaller gestures then I used before.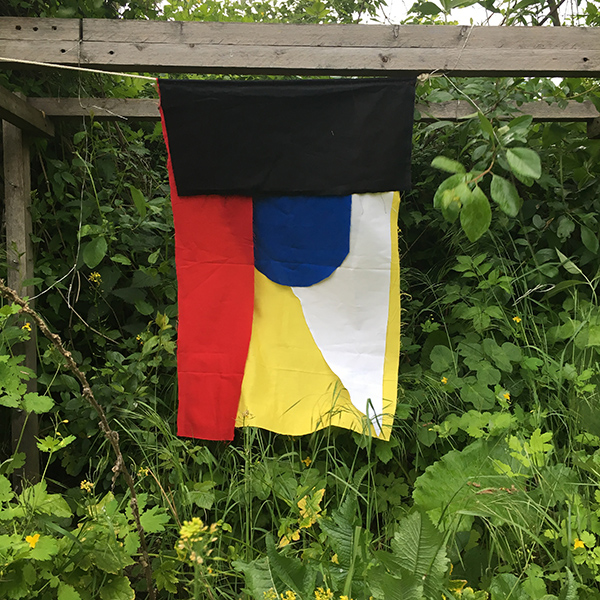 The concept of making kin from Donna Harroway was the bases of the adoption project that I found most interesting in this block. We were asked to give up for adoption a part of our research. I brought in a flag that was partly deconstructed and primarily based on naval signal flags to explore the ambiguity of those things. But since I gave this up for adoption, it doesn't play a role in the current narrative.
Laura Pante gave me a lot of material for adoption, she gave nature, fascism, Jane Fonda, the pink, and other items and concepts. The big amount of the materials that I received forced me to select and edit, sometimes follow an idea, and sometimes store it for later. I was looking for connections and meaning through working with them, I presented those as rehearsal for a small exhibition. (I was asked to do something on the doorstep of NL=US, a gallery in Rotterdam, I used my adoption findings as the exhibition that was inside)
During the halfway days we swapped adoptees, I recieved my new one from from Nicolas Y Galeazzi
Who received 'Yggdrasil' from from Flavio Rodrigo. He gave me the number 1425, as a reference to a date imagined by Donna Harroway. Accidentally he talked about a 1000 years. I decided to not physically bring the number with me, even though I found out later that the proffered wood for an axe handle is actually ash. My explorations resulted into a presentation in 'Valhalla'.
During dinner I spoke about the steps from tree and wood to lumber and timber, I made a huge 'buddha-bowl' which was mixed up to become pig-food, I showed a timber sample box with over 50 samples of wood from all over the world, of which some are now endangered, I did an experiment with some generated sound and I gave my adoptee to Nicolas is the form of a facses, and ancient ambigoues object.
Some small gestures during
I made and served jam made from Japanese Knotweed
I weaponized the children that lived on the wasteland where part of the block was happening
And when we asked to leave a trace at the unlearing centre we visited in Switserland, I cut of some centimeter from a chair so it would wobble.
(some photo's of my intervention at NL=US)
the cloths are adapted by the Muslin Brothers