excursion
Marialena Marouda Flemish Marine Institue: Marine Station Ostend (MSO)
17 November 2017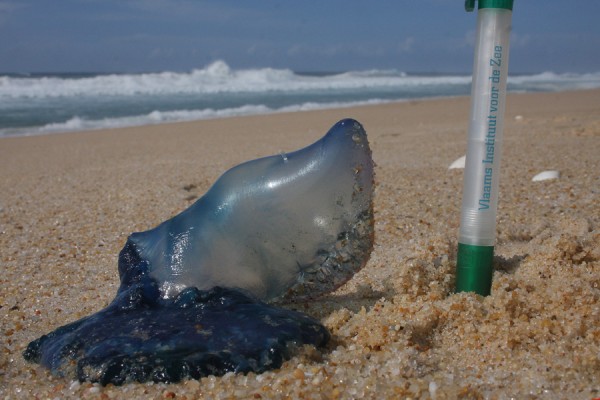 71714_physalia-physalis
The excursion is a first encounter with the Flemish Marine Institute and its work. It includes a tour of the Marine Station and the Research Vessel Simon Stervin in the port of Ostend. Our guide will be André Cattrijsee, who is the "research infrastructure manager" of the FMI.
During this excursion, I propose for us to focus our attention on how the ocean is studied in a scientific context. What kind of language is used to describe it? And what kinds of instruments are used to measure it? What are the categories that result from those measurements? And what kind of ocean is produced as a result? As a score for this excursion, I therefore propose to shift slightly the way we listen and experience this tour of a marine research institution. Instead of simply following the content of what is said, could we also discern the knowledge dispositive within which this tour takes place? And how does this dispositive affect, finally, the "object" of its study?
In the framework of my research project "Oceanographies" I am interested in finding ways to summon the ocean by means of storytelling and performance. The project in inspired by a personal fascination with this liquid space and its properties. Its materiality, the traces it leaves on the body, its infinite blue transparency, the way it reflects the light, the physical –and temporal– limits it imposes are some of the ways the ocean can "speak" to me. In my research I study this "language" of the ocean by collecting stories from different people's encounters with it. The focus of the research is therefore not about the ocean "in itself", devoid of the human presence. Rather it is the relation of the hands to the mud, the ears to the breaking of the waves, the feet to the feeling of sinking, that the work focuses on. The research project weaves the complexity that arises from those interactions into the tellings of stories and their demonstrations.
I perceive the excursion to the flemish marine institute as a first step towards a longer term collaboration with this institution. I intent to also introduce the researchers of the institute to my oceanic research and hope that I can enter into conversations with them about their experiences of the ocean and the storytelling of those experiences.
Sign up for this event.