end presentation, event
I feel like leaving the room
28-29 January 2021 / online: https://ifeellikeleavingtheroom.online
End Presentations 2021 I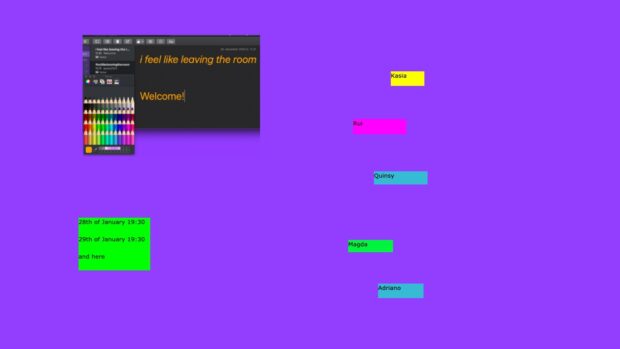 a.pass welcomes you the:
29th January 2021 – 19:30 – TV show -Collective presentation – 2h30 hours
Join Zoom Meeting
is finished…. 
Check out :  https://ifeellikeleavingtheroom.online/
I feel like leaving the room  is the title of the postgraduate End Presentations of researchers Rui Calvo (film maker), Quinsy Gario (poet, visual and performance artist), Adriano Wilfert Jensen (choreographer), Magdalena Ptasznik, (choreographer) and Kasia Tórz (dramaturg and writer).
After attending to the extended one year program at a.pass, the five researchers finish their trajectory with an online presentation of a collective website. Covid 19 and the restrictions of the confinement have framed the space of these public presentations in an uncanny entanglement between the private and the public. I feel like leaving the room  is more than anything the (liminal) desire to come together. The form of this coming together takes shape around an ad-hoc TV show that will be streamed the 29th of January from the a.pass studio as an attempt to still intertwine thoughts and experiences.
In the beginning, the space for this public moment was imagined as a living room, as a place where the borders of the informal and the formal are blurred.  Not as a real physical living-room but by using the conditions implied in such well known private (though public) environment, with the aim of engaging the audience in a different way. What happens when research becomes public as a workshop, a power point presentation, a film, a dance or a walk that steers from such a hangout surrounding?
As a consequence of the pandemic that determines the conditions of coming together – the living room became the desired 'leaving room' – a place, as well, between the private and the public but enclosing the publicness in separated private spaces with only one window – a window to the virtual. The artists researchers addressed that liminal space in various ways in accordance with the medium they mainly work with. Inevitably, the translations that will take place, address the current situation of the confinement, while trying to reach out to the world.
Read more..