end presentation, performative publishing, research center
Gosie Vervloessem, caterina daniela mora jara, Maurice Meewisse, Paoletta Holst and Tulio Rosa Research Publications + Annex
23 September 2023 / a.pass
Research Center Cycle IV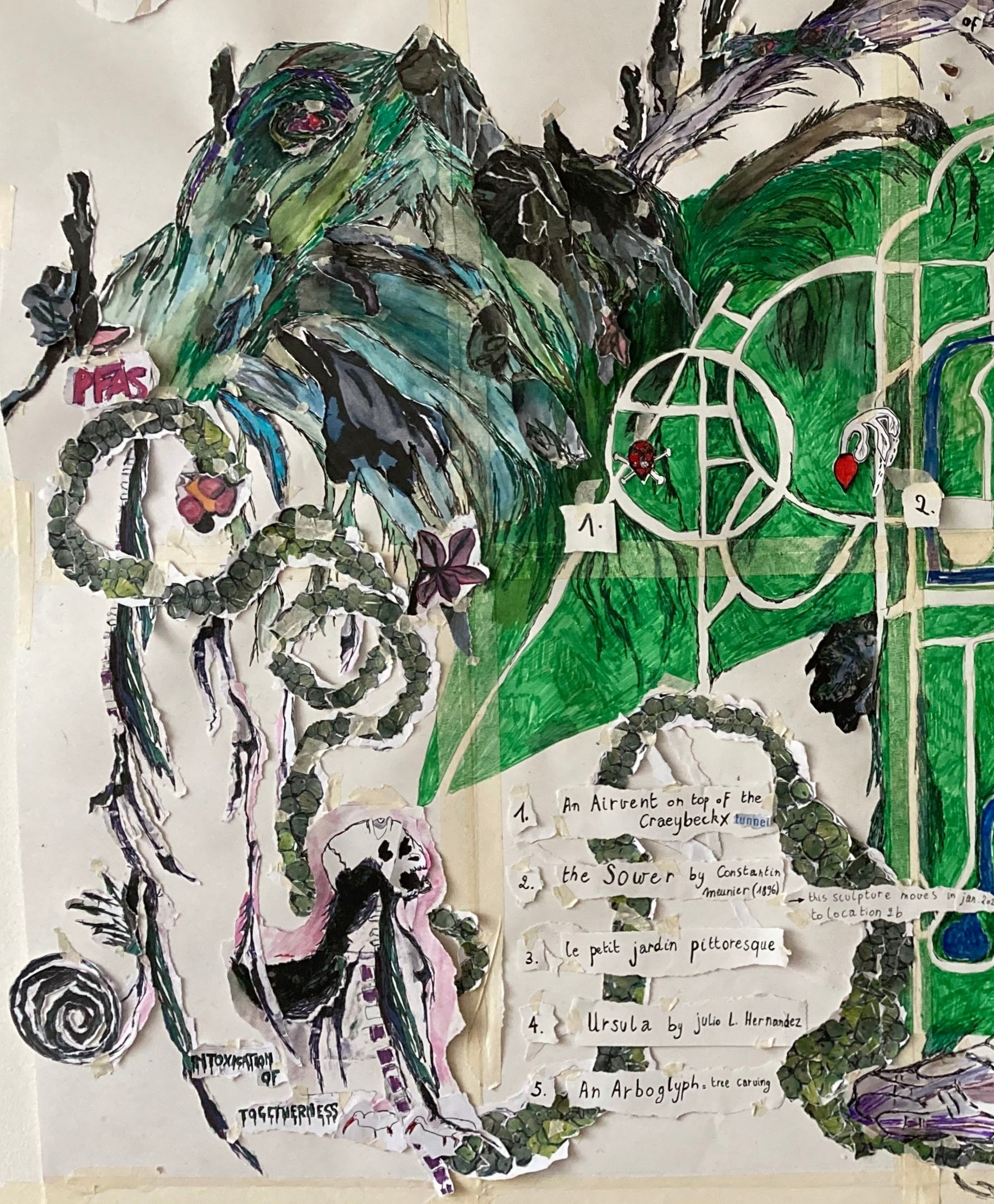 Gosie Vervloessem "The Pleasure Garden", detail
Saturday, September 23rd 2023
18-22h
a.pass, Brussels
The a.pass Research Center* cordially invites you to an evening of research publications by Gosie Vervloessem, caterina daniela mora jara, Maurice Meewisse, Paoletta Holst and Tulio Rosa that will conclude the year they spent together as Associate Researchers of Cycle IV. 
During the timespan of Cycle IV the artists and researchers individually and collaboratively worked on hospitality as a curatorial practice, on conflicted embodiment of dance practices, on archives of colonial architecture, on the fiction of nature and on a historic opera as a foundational myth for the State of Brazil. In a series of collective practice meetings a shared discourse began to emerge that connected these works through an engagement with the responsibilities of redesign and reenactment, the tension of fiction and history in speculative practices and the embodiment of non-solutions. These intertwined processes and questions radiated into the practices of Gosie Vervloessem, caterina daniela mora jara, Maurice Meewisse, Paoletta Holst and Tulio Rosa as they hosted each other in their research and developed the idea of a research center as a prolonged group conversation with materials, practices, ideas and affects. 
On Saturday, September 23rd, the researchers will present their individual publications and research trajectories as well as the Annex – a shared collection of essays and interviews. For their Publications the researchers aim to provide an account of their process and to develop public formats of research-doing and research-sharing to accompany the more established format of an essay. In a scenography that will be a result of a communal atelier process the Publications of Cycle IV will engage the audience in a dialogue with texts, objects, conversations, installations and performances that can be reflected back into the research process. As Cycle IV concludes, the research itself is far from finished: Publications and Annex contextualize its collaborative, intense phase and give some insight into where it came from and where it is heading next. 
Read more..